7 Prison terms, 1 suspended sentence for Bolotnaya rioters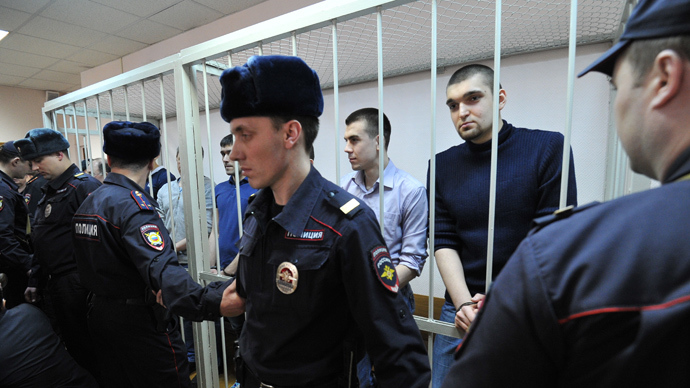 Eight people have been sentenced for attacking police officers and instigating riots during a peaceful march before President Putin's inauguration of 2012.
The prison sentences range from two and a half years to four years. A 20-year old girl who was caught on TV cameras throwing stones at policemen got a suspended sentence.
All the eight suspects were found guilty on Friday, and were sentenced by the court on Monday.
The initial number of defendants in the case that ended in Monday sentencing was 12, but four of them were recently released under an amnesty. The remaining eight were put on trial, as the amnesty only extended to those who were suspected of non-violent crimes against representatives of authority. In total, of the 28 people who faced criminal charges within various cases instigated into the Bolotnaya Square riots eight people were released under the amnesty announced in December last year.
The Bolotnaya Square case is one of the most controversial in modern Russia. Some people see the trial as intimidation and hold rallies in support of the suspects and those convicted, while others call for harsh punishment for rioting, and for any attempts to pursue political ends with anything other than lawful democracy.
Since the case started the street opposition held several marches and rallies in support of the "Bolotnaya prisoners."
Moscow city police reported on Monday that about 200 people had been taken to police stations for trying to stop traffic in the street outside the court and breaking through police cordons. The apprehended included celebrity figures such as former members of the Pussy Riot punk band and the anti-corruption blogger turned opposition politician Aleksey Navalny.
Most of the detained were released after administrative fines for breaching public order and violation of traffick rules.
When the judge was preparing to announce the verdict on Friday, there was also a minor protest near the court building, resulting in about 50 detentions and several were fined over unsanctioned pickets.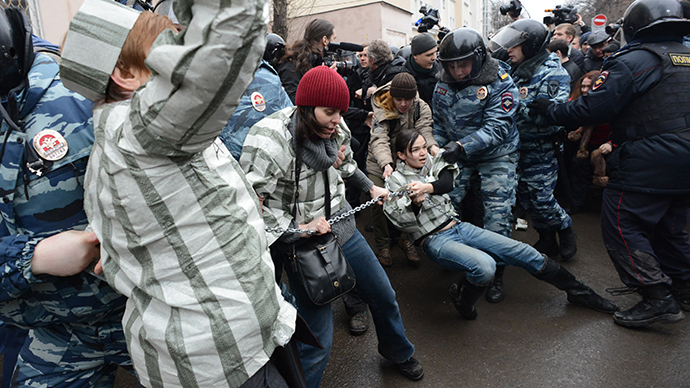 Some of the detained – both on Friday and on Monday – were wearing costumes of roosters and elks, but offered no explanations for why.
Vladimir Putin's spokesman Dmitry Peskov declined to comment on the sentences, but said that if those convicted apply for clemency President Putin would consider their requests like he would anyone else's.
You can share this story on social media: