Opposition blogger flees Russia after paedophile charges – report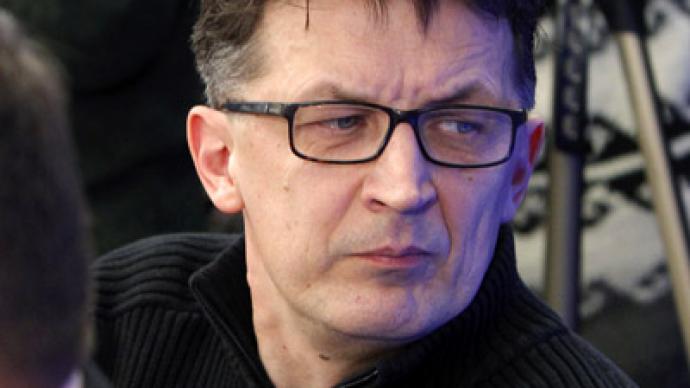 A top-rated Russian blogger and one of the leaders of the independent opposition, Rustem Adagamov, has fled the country after law enforcers repeatedly summoned him for questioning over allegations of the sexual abuse of a 12-year old girl.
The Russian daily Izvestia reports that Adagamov's former spouse Tatyana Delsal has used the internet to accuse him of paedophilia, and has passed evidence to the Norwegian police. Delsal and Adagamov are both Norwegian citizens. Delsal also told Izvestia that she had no doubt that Adagamov will be convicted for what he had done. She added that the alleged victim wanted to meet Adagamov in court as she was convinced that he would not be able to lie after looking her in the eye.The ex-wife first voiced her accusations on Youtube and later repeated it in an interview with RT. According to her, some time ago, when they lived in Norway, Adagamov sexually abused a girl who was just 12 at that time. Delsal said this caused her to seek divorce. Police in the town of Lillesand in Southern Norway have told Russian journalists that they had received Delsal's report and had already questioned the alleged victim. The police say the alleged victim will remain anonymous in the Norwegian and Russian court documents, adding that this was the main condition set by the woman before she agreed to talk to investigators.Agents of Russia's Federal Investigative Committee told the press that they had repeatedly summoned Adagamov in order to question him after the paedophile story broke, but the activist ignored their summons. Adagamov's lawyer refused to answer questions about his client's whereabouts, but a source close to investigators told Izvestia that the blogger had fled Russia. Adagamov continues to work as a professional blogger for the Russian company SUP Media and published several posts this week, but it was not possible to tell his location from them. The blogger closed his Twitter and Facebook accounts about a week ago and refuses to communicate with journalists. After Delsal made her first accusations Adagamov denied all the charges and threatened to sue anyone who spread the report in social networks, but said he would not take any action against his ex-wife for moral reasons. Sources in Russian law enforcement bodies have told Izvestia that they received a written statement from Delsal together with some evidence, including some e-mails in which Adagamov confessed to his crime and begged his former spouse not to disclose it. However, later in the day the head of the police in Lillesand told the Russian news agency ITAR-TASS that he was not aware of any allegations against Adagamov and had no idea who told Izvestia newspaper an investigation had already started.The case has resonated in Russia not only because of Adagamov's popularity in social networks, but also due to the fact that the man is a member of the Coordination Council of the Opposition – a body uniting people who are critical of the authorities but who do not support any of the existing Russian political parties and movements. The election to the council took place in October last year and about 80,000 Russians voted – a tiny fraction of Russia's 108 million voters.After the ex-wife voiced the paedophilia charges some members of the coordination council suggested that they could vote Adagamov off the body, but added that they needed more solid proof than simple claims. Adagamov's place in the council allowed him to participate in several public projects including the public council affiliated with the Culture Ministry, but earlier this month officials said they wanted to expel the blogger because he had not contributed anything in the council's work. Adagamov replied by an internet post saying that he had not received any invitations or suggestions from other members of the board.
You can share this story on social media: