Belarus nuke rebuke over US sanctions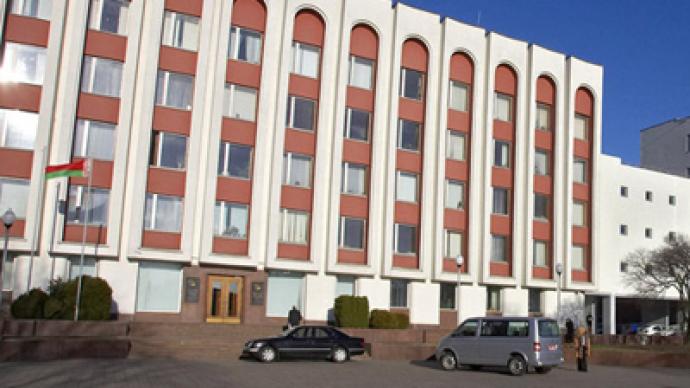 Minsk has responded to a new round of US sanctions by suspending a joint project with the US for exchanging highly enriched nuclear fuel.
Washington imposed new economic sanctions against Belarus last week in response to Minsk's crackdown on the opposition following protests in December last year. The sanctions forbid any US person or company from having business relations with certain Belarus enterprises. As a result, Minsk decided to indefinitely suspend their cooperation with the US on the exchange of highly enriched nuclear fuel.  The joint project was a part of the US Department of Defense initiative to reduce the global threat of nuclear proliferation.Belarus will continue to ensure the physical safety of the nuclear fuel in accordance with international obligations in the area of non-proliferation, Foreign Ministry spokesman Andrey Savinykh said on Friday. Cooperation with the US can be resumed after "a normal climate of relations is restored," he said.The official did not rule out, however, that Belarus may take other retaliatory measures. He described the decision of the US government as an "unfounded and unlawful," as well as being politically-motivated. Savinykh stressed that the US had violated the 1994 Budapest Memorandum, the provisions of the Helsinki Final Act and a UN General Assembly's resolution. So far, Belarus has removed only 10% of the highly-enriched nuclear fuel stockpiled in the country, General Director of the Belarusian United Institute of Energy and Nuclear Research "Sosny" (Pines) Vyacheslav Kuvshinov told Interfax. The project, called the Martynov-Clinton memorandum, was signed at the end of 2010 and is supposed to be fully implemented by 2012. Currently, the joint effort will only proceed if relations between Belarus and the US stabilize. One of Belarusian opposition leaders, Anatoly Lebedko, described the Belarusian government's decision as "soft blackmail" and warned it could backfire. The head of the United Civil Party even assumed that if Belarus decides to hand the fuel to some organizations on the UN blacklist, "it wouldn't harm Washington and the Americans, but Belarus and its citizens." The ministry's statement is rather an attempt to affect the US position, the politician said, adding that the step may provoke new sanctions. He noted that Minsk has limited cooperation with the US, but Washington could influence countries from the EU to join in on the economic sanctions.  Russian Prime Minister Vladimir Putin, who met with his Belarusian counterpart Mikhail Myasnikevich on Monday, said that economic sanctions were not an effective means of resolving political issues. Very often, such sanctions fail to reach their objectives and lead to the exact opposite result, Putin said. "Belarus is living through a difficult economic period… we should not forget about this," the premier noted.
You can share this story on social media: