Belarusian Interior Ministry blames anarchists for attack on Russian embassy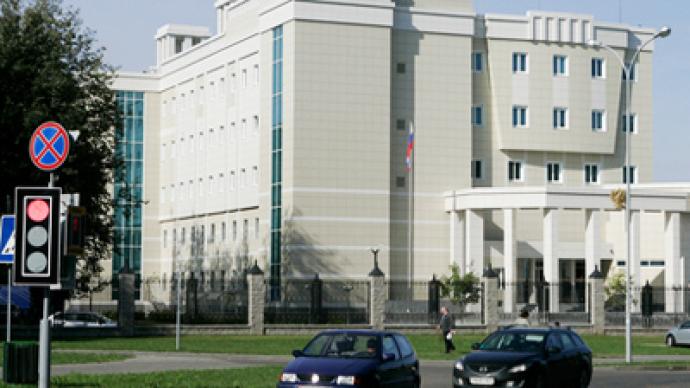 Five people have been detained on charges of an attempted arson committed last summer, and one is on a wanted list, Belarusian Interior Minister Anatoly Kuleshov said on Wednesday.
Those arrested are citizens of the Republic of Belarus. Another is on an international list of wanted individuals. Two men hurled Molotov cocktails on to the territory of the Russian embassy in Minsk on August 30 last year. One of the cars parked there was burnt out. The Interior Ministry opened a criminal case on charges of hooliganism.The Russian Foreign Ministry then demanded that Minsk thoroughly investigate the attack and do everything possible to ensure such incidents do not happen in future.The organizers and participants in the attempted arson of the embassy belong to an anarchist movement, Kuleshov said. He added they were also responsible for attempted arson attacks on the Palace of Trade Unions, a detention center in Minsk and the building of the Ministry of National Defense.A similar crime in the Belarusian town of Bobruisk had been also solved, the minister noted. Several people had attempted to set fire to the building of the local department of the state security service, the KGB. Police detained the suspects in this case. "Police stopped armed coup"Kuleshov also said he took the decision himself to disperse the riots in Minsk on December 19, 2010, and "no laws were violated." Police stopped the opposition from seizing power, he noted. If urgent measures had not been taken, "I would have had to smoke out these people from the government building," the minister stressed. "That would have been a massacre. Together with my subordinates, I did everything to stop an armed seizure of power and coup."On the night following the presidential elections, police detained more than 600 people. Criminal cases were opened against dozens of protesters, among them several former presidential candidates. Russian citizens who had also been detained were later released.
You can share this story on social media: