Russian embassy in Belarus attacked with petrol bombs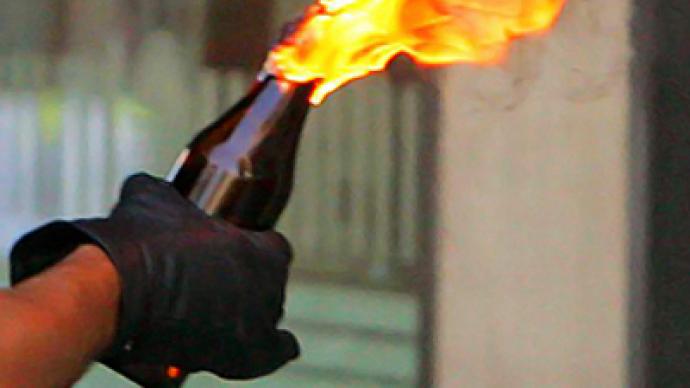 On August 31 unidentified attackers have thrown two petrol bombs at the Russian embassy in Minsk, Belarus. No one was hurt, but one car was destroyed by fire.
On September 1 Belarusian President Aleksandr Lukashenko claimed that the attacks could have been organized by Russian authorities as an attempt to discredit the Belarusian government.
The next day a statement was posted on Internet stating that the fire attack was carried out by an anarchist group in support of the Khimki Forest defenders. The video of the attack followed the text.
On September 3 Russia's Interior Minister Sergey Lavrov called Lukashenko's statement a blasphemy.
"I don't want to comment on these baseless claims," he said. "We'll wait for the result of the investigation; I think, they will be the best answer."
On the same day the Russian embassy in Minsk, dissatisfied with the Belarusian media coverage of the incident, addressed a note to the country's Interior Ministry, embassy councilor Vladimir Gusev was quoted as saying by Itar Tass.
He said that the embassy is outraged with the Belarusian media spreading unverified information that was not backed up by investigation data.
Backgrounds
The incident took place on Monday evening, Belarusian law enforcers have arrived at the scene of the incident. Belarus Emergencies Ministry confirmed the incident on Tuesday morning. They also said that no one was injured in the process and that the embassy workers discovered the burnt car only in the morning. Investigation into the incident has started.
Russian embassy sent a note to the Belarus Foreign Ministry on Tuesday with a request to thoroughly investigate the attack.
Relations between Russia and Belarus are still friendly, but they recently suffered a downfall after Russian state television showed a series of documentaries and interviews with Belarusian opposition figures exposing the wrongdoings of President Lukashenko. Lukashenko has said in an interview that a "personal conflict" was the reason behind the aggravation of relations.
You can share this story on social media: