Leaders of Azerbaijan, Armenia discuss Nagorno-Karabakh settlement in Russia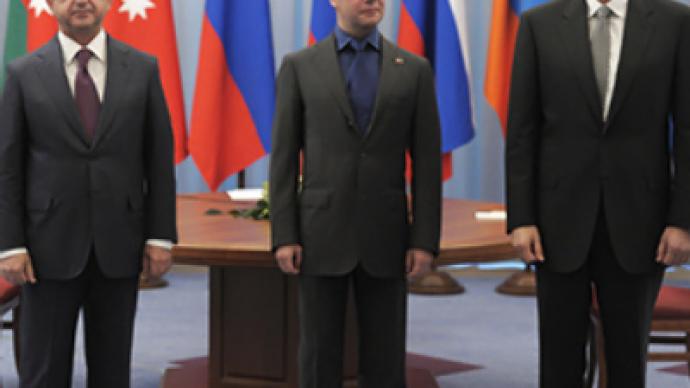 The presidents of Russia, Azerbaijan and Armenia have held talks on the Nagorno-Karabakh settlement, in a new effort to find a solution to the conflict between Baku and Yerevan.
The principles for the settlement may be agreed before the summit of the Organization for Security and Co-operation in Europe, due to place in Kazakhstan in December, Dmitry Medvedev said on Wednesday. The three countries' foreign ministries are expected to finalize the draft document in the coming month.
The Russian president met with his counterparts Ilkham Aliyev of Azerbaijan and Serzh Sargsyan of Armenia, in the Russian city of Astrakhan for discussions without delegation members. During the meeting, a statement on the strengthening of confidence-building measures was adopted, Medvedev said. It envisions "the exchange of prisoners of war and the return of dead bodies," he added.
The leaders of Azerbaijan and Armenia confirmed the provisions of the joint declaration signed in Moscow in 2008, and stressed that the settlement required "further efforts aimed at strengthening ceasefire and confidence-building measures in the military field," Itar-Tass news agency said.
The previous meeting of the presidents took place in St. Petersburg in June. Russia, the US and France are mediating the dialogue between Baku and Yerevan on the key principles of the settlement process (the renewed Madrid principles).
Medvedev has promised to continue efforts to broker an agreement and believes the problem is likely to be solved in the foreseeable future.
The history of the conflict dates back to 1988, when Azerbaijan and Armenia were the Soviet Union's republics. The Nagorno-Karabakh Autonomous Region announced its intention to join Armenia. In 1991, the region declared its independence, which led to armed conflict in 1991-1994.
Since 1994, talks to determine the status of Nagorno-Karabakh have been conducted within the framework of the Minsk Group of the Organization for Security and Co-operation in Europe (OSCE). The group proposed the basic principles for a settlement of the conflict – the Madrid document – in 2007.
On the eve of the meeting in Astrakhan, the Armenian Defense Ministry condemned Azerbaijan for the death of a serviceman from the armed forces of the self-proclaimed Nagorno-Karabakh republic, Interfax news agency reported. The ministry described the incident as "a provocation" aimed at destabilizing the situation in the region in the run-up to the talks in the Russian city.
Sergey Borisov, RT