Russian alternative communists want US barred from Sochi Olympics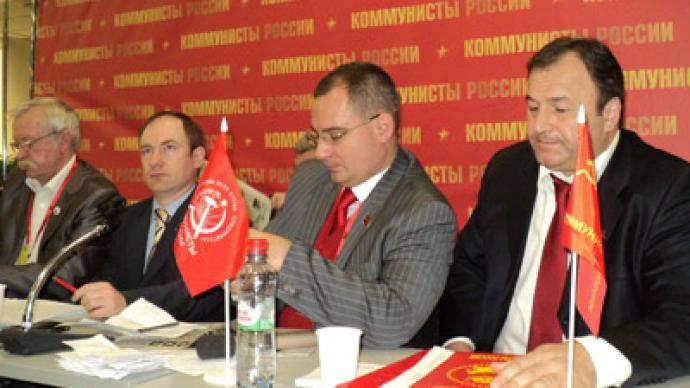 A Russian Communist party that positions itself as an alternative to the long established and popular KPRF is now seeking to prevent the participation of US athletes in the 2014 Winter Olympics in Sochi.
The Communists of Russia Party says a ban on the US Olympic team will be a proper response to the Magnitsky Act, recently approved in the United States. Moreover, one of the party leaders told the Izvestia daily that such a move would have a greater effect than the Dima Yakovlev Law – a set of reciprocal measures introduced in Russia from January 1 this year. Russia should show the international community the "irreversibility of responsibility of the US establishment before the international community", Maksim Suraikin announced in his trademark old school propaganda style. However, the announcement was coldly received in Russian political circles. In part it could be because the country was on a lengthy Christmas holiday, but also due to the reputation of the Communists of Russia Party. The party was founded in 2012 after the rules were made easier for political party registration. It came about through the merger of the youth branch of the Communist Party of the Russian Federation or KPRF (the successor of the Communist Party of the Soviet Union with a faction in the Lower House) and two organizations known for political extravagance – the Communists of the Leningrad Region and the Communists of the Far East. Over the past few years the Communists of the Leningrad Region have been making relentless (and usually successful) attempts to attract attention. These included the suggestion to jail British rock star Sting for promoting Marijuana, to outlaw the Avatar movie that they thought was abusing the Soviet sci-fi authors and shaming actress Olga Kurilenko for her role of a bond girl or, as the Leningrad Communists put it "the girlfriend of a man who has killed hundreds of Soviet people, Cubans, Vietnamese, Koreans, Chinese and Nicaraguans".The Communists of Russia proved to be good successors of this tradition. In its short history the party has already demanded an investigation into the Russian Culture Minister for extremism (the official suggested to bury Vladimir Lenin's body), to issue Russian passports to spermatozoids and lately – to investigate the legality of granting Russian citizenship to the French film star Gerard Depardieu.Such a legacy is probably the reason why the latest initiative by the Communists of Russia Party got a cold reception from fellow politicians. United Russia MP and former boxing champion Nikolai Valuyev called the statement a PR event and emphasized in a press interview that there must be no link between the Magnitsky Act and the Olympics.
You can share this story on social media: