Ahmadinejad sets Switzerland and Israel at odds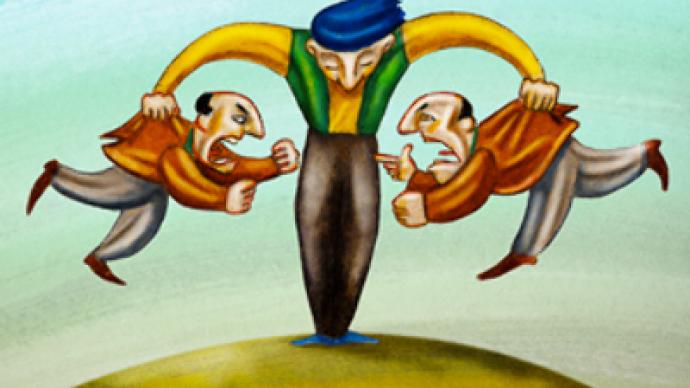 Diplomatic squabbles, criticism of Switzerland and a boycott of seven major participants – such is the background of the UN's first global racism conference in eight years, which opens on Monday.
On Sunday, Iranian President Mahmoud Ahmadinejad, known for his vehement anti-Israel stance, met with his Swiss counterpart Hans-Rudolf Merz in Geneva.
The meeting enraged Israeli officials as it took place on the sidelines of the United Nations Global Racism Conference, which opens on Monday.
"Any meeting of a decent world leader with the extreme and dangerous leader of Iran, Ahmadinejad, is undermining the one who's meeting Ahmadinejad," Israel's Deputy Foreign Minister Danny Ayalon, who criticized his Swiss counterpart's move, while Israeli Welfare Minister Isaac Herzog called the meeting 'a major mistake' by the leadership of Switzerland.
In addition, Israeli Prime Minister Benjamin Netanyahu told his Cabinet that while Israel commemorates the six million Jews slaughtered by the Nazis, "in Switzerland, the guest of honor is a racist and a Holocaust-denier who doesn't conceal his intention to wipe Israel off the face of this earth."
Consequently, Israel has ordered the Israeli ambassador to Switzerland to return home for 'consultations'.
In the meantime, the conference kicked off on Monday with another scandal. In his passionate speech in Geneva, Ahmadinejad accused Israel of being the "most cruel and racist regime," sparking a walkout by angry Western diplomats.

Although it is meant to focus on the issues of racism, more often than not such events risk descending into bickering and political infighting over Israel, Zionism and the Holocaust. The previous event held in South Africa's Durban was also marred by the political arguments on the issues, which have nothing to do with racism. This year's event is no exception as Islamic countries' denouncing Israel and banning criticism of Islam are supposed to be the major sticking points in Geneva.
This time the Arab countries risk discussing these issues all by themselves. The US and at least six other countries – Netherlands, Germany, Australia, Canada, Israel and Italy – have already announced they are not taking part in the event.

Nevertheless, Pope Benedict decided to send a Vatican delegation to the conference. The move has opened a new rift in Vatican's relations with Jewish groups, who fear the event will be used as a platform to attack Israel.
You can share this story on social media: