Ahmadinejad says Iran doesn't plan to obtain nukes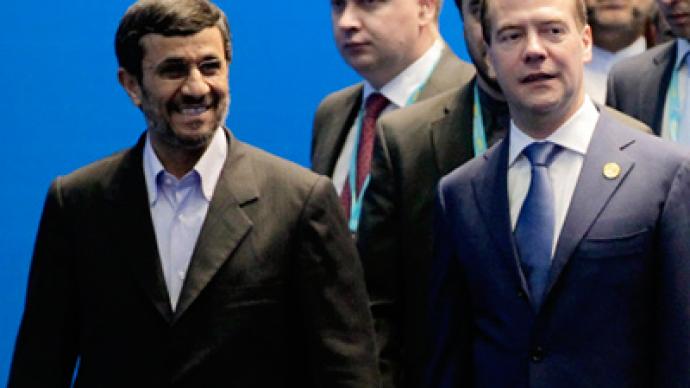 Mahmoud Ahmadinejad has assured that Tehran does not plan to obtain nuclear weapons, Russia's Foreign Minister Sergey Lavrov said after the meeting between the Iranian leader and President Dmitry Medvedev.
The leaders met on the sidelines of the tenth anniversary summit of the Shanghai Co-operation Organization (SCO) in the Kazakhstan's capital of Astana. The host of the forum, Kazakh President Nursultan Nazarbayev, also took part in the meeting, which focused on the issues of the settlement of the Iranian controversial nuclear program. "The Iranian president has once again declared unequivocally that his country has no intention of possessing a nuclear weapon," Lavrov told journalists after the trilateral talks, as cited by Interfax agency. According to Ahmadinejad, "this will be Iran's official firm and invariable position in all practical affairs," he added.Russia's Foreign Minister observed that since the Western partners in the negotiations are "apparently too busy" with the Middle East and Northern Africa, the Iranian nuclear problem has been pushed to the background. Exactly for that reason, President Medvedev initiated the meeting with Ahmadinejad.During the talks, the Iranian leader was urged to co-operate more constructively with the so-called "5+1 group" comprised of five permanent United Nations Security Council members and Germany. Russia also called on Ahmadinejad to raise transparency in Tehran's contacts with the International Atomic Energy Agency (IAEA). According to Lavrov, Ahmadinejad's reaction "was positive". The Islamic Republic's leader admitted that the sextet "is an important instrument" and Tehran is ready to co-operate with the group on the nuclear program as well as on other matters. Those, he said, include easing sanctions against the state and "the development of regional processes", in which Iran would like to participate on an equal basis with other countries. Moscow supports the idea. The Russian side at the meeting stressed "that such an approach – that is, the combination of the Iranian nuclear program agenda with the regional economic agenda -fully reflects the approaches of the sextet," Lavrov said. It is hoped that now there are no obstacles for the renewal of the dialogue between Iran and the sextet.
You can share this story on social media: