Israel tries to persuade Russia not to sell weapons to Syria, Iran
Published time: 31 May, 2011 06:48
Edited time: 31 May, 2011 12:56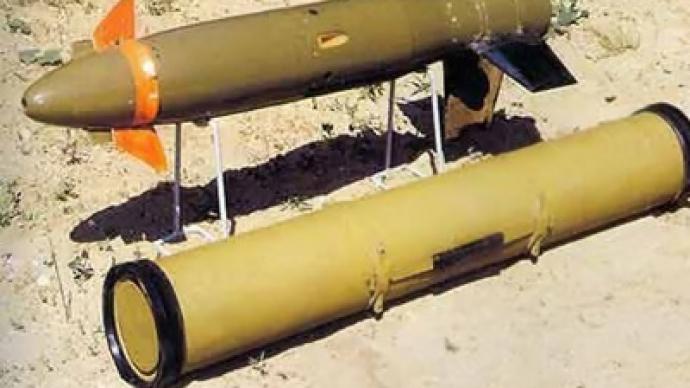 The deputy premier of the Israeli government, Moshe Ya'alon, says Moscow should stop selling arms to countries that "support terror."
­Ya'alon, who is also the strategic affairs minister, is visiting Moscow on Tuesday. The sale of Russian weapons to Iran and Syria are top on the agenda. This issue is "painful" for Israel, the minister told Interfax. He recognized that disagreements over arms sales to those countries exist between the Russian and Israeli governments.

"We will continue explaining our position to the Russian side through established channels," Ya'alon said. He added Israel had evidence that weapons exported by Russia sometimes "end up in the hands of terrorists."
The minister cited the example of a recent attack on an Israeli passenger bus from the direction of the Gaza Strip. According to Ya'alon, it was staged by Hamas militants who allegedly used a Russian-made Kornet anti-tank missile. There are other examples of Hamas using weapons that "most likely" were handed over to the Palestinian movement from Syria, he said.

Israel might try to raise the issue of Russia's arms exports to Syria and Iran now that the international community is pondering tough measures against Damascus following the government's crackdown on the opposition protests. But representatives of the Russian Foreign Ministry said recently Moscow would not even read any resolution on Syria proposed in the UN Security Council. The government of that country should be given a chance to go the way of reforms they proclaimed, the diplomats said. They also made it clear that the "sanctions track" against Iran has exhausted itself.

Earlier this month, Russia threatened to block a UN Security Council report on further Iran sanctions. The document alleged that Iran had been shipping weapons to Syria "loose and sloppy."

Vitaly Churkin, Russia's UN ambassador said Moscow would be raising objections over the report. He described it as a "loose and sloppy piece of work." The document contains some recommendations "which our experts do not agree with at all," the diplomat told journalists.

The Iran sanctions committee will consider the issue in early June, including "highly technical matters" Churkin mentioned.

According to the report, four rounds of UN sanctions against Iran may be slowing Tehran's nuclear program. However, that country has reportedly breached an arms embargo "by shipping" weapons to Damascus. Six of the nine violations of a UN ban on conventional arms shipments by Iran involve Syria, according to UN experts.

Syria remains one of the most important Russian allies in the Middle East, and Israel has repeatedly asked Moscow to stop selling its arms to Damascus.