Foreign mercenaries abandoning Ukrainian army – officer
Fresh troops who arrive to fight for Kiev often say they did not realize how bad the situation is, Lieutenant Dmitry Kostyuk said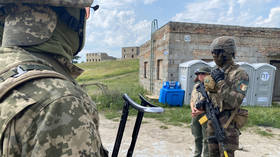 Many foreign mercenaries recruited by Ukraine soon opt to flee the country after experiencing the gruesome reality of the battlefield, an army officer told CNN on Sunday. Moscow has previously said that Kiev is using soldiers from other countries as cannon fodder to breach Russian defenses.
In an interview with the American network, Lieutenant Dmitry Kostyuk said that his platoon, which was deployed not far from Artyomovsk (known as Bakhmut in Ukraine), a scene of fierce fighting in recent months, ran short of personnel and was replenished by 12 foreign fighters.
According to the officer, while some mercenaries join the fray because they are attracted to "the romance of war," others go because they see fighting as their "professional activity" or even "because it is a good line on their resume."
As a rule, they do not realize what they are getting into. Many people imagine our war as a gunfight with the enemy, but they don't realize how much artillery there is and that you sit under fire all day, every day, and may not see the enemy at all.
Kostyuk noted that, unlike Ukrainian citizens, foreigners are free to terminate a contract with the military. After seeing what the hostilities looked like, almost half of the people said, "No, no, this is too much. This is not the kind of war we signed up for," the officer claimed.
He also criticized the country's mobilization campaign – which has been marred by numerous corruption scandals and draft dodging – by noting that Ukraine's attempts to force its citizens to join the army produce soldiers who are reluctant to fight.
The Russian military has repeatedly warned that foreign mercenaries recruited by Ukraine are viewed as a legitimate target, having launched long-range missile strikes on their training camps on numerous occasions.
In July, the Defense Ministry in Moscow said that Kiev "throws units with foreign mercenaries into so-called 'meat-grinder assaults' on Russian positions," with those injured troops being the last to be evacuated.
Around the same time, Moscow estimated that, since the start of hostilities, more than 11,000 foreign mercenaries had arrived in Ukraine and that almost 5,000 of them had fled the country after seeing how they were being treated by the military and local authorities. As of July, the number of foreign fighters in the Ukrainian army was estimated at just over 2,000, according to the Defense Ministry.
You can share this story on social media: