Ukraine arrests Zelensky critic for 'treason'
The lawmaker, who is accused of working for Russian intelligence, has dismissed the charges as politically motivated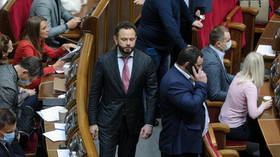 A Kiev court has ordered the arrest of Ukrainian journalist and independent MP Alexander Dubinsky, accused by Ukraine's successor to the KGB (the SBU) of treason and working for Russia. He was remanded for two months of pre-trial detention on Tuesday, according to posts on Telegram published on the politician's personal channel.
The lawmaker dismissed the charges against him as politically motivated, calling the whole case "fabricated" and based only on vague witness testimonies and assumptions, rather than solid facts.
"There are assumptions that are not substantiated by any evidence by the prosecution. All these materials are fabricated. This is a political persecution for criticizing the authorities, which I have been doing throughout my entire parliamentary career," Dubinsky stated.
Dubinsky used to be a member of President Vladimir Zelensky's ruling party, 'Servant of the People', and was elected to parliament in mid-2019. The politician has repeatedly been involved in various scandals, ultimately being ousted from the party in February 2021, yet retaining his mandate as an independent.
He has grown increasingly critical of Zelensky as the conflict between Moscow and Kiev drags on, alleging rampant corruption within the government and condemning policies against the Russian language, as well as Ukraine's "lawless" conscription drive.
The MP claims the case against him is based solely on the testimony of a convict who entered a plea deal with prosecutors for only five years behind bars. That person is linked to another treason case involving Andrey Derkach, a former Ukrainian lawmaker, Dubinsky said.
Derkach left Ukraine shortly after the conflict between Moscow and Kiev began in February 2022. He is a highly-controversial figure who has been at the center of multiple high-profile scandals. The ex-legislator has faced accusations from US intelligence of interfering in the country's presidential election, and charges from the US Justice Department of money laundering and fraud. Meanwhile, Kiev has leveled allegations of treason and working for Moscow at Derkach. He was stripped of Ukrainian citizenship early this year, and has denied all the aforementioned accusations.
The SBU provided more information on Dubinsky's case on Monday, with a detailed press release concerning "suspicion of high treason" by an "active lawmaker." Dubinsky was not explicitly named in the statement, but the agency released lightly blurred photos of a raid on the MP's residence in which he was still easily recognizable.
According to the SBU, the politician has been working for a "criminal organization" bankrolled by Russian military intelligence and tasked with sowing discord in Ukraine, and spreading "pro-Russian narratives about the top military and political leadership" of the country. Apart from Dubinsky, the purported group involved Derkach and a former employee of the Ukrainian prosecutor's office, Konstantin Kulik. All of the suspects are now facing up to 15 years behind bars, as well as asset forfeiture.
You can share this story on social media: