US stance on Gaza 'paralyzing' UN Security Council – Russia
Washington is ignoring calls to end the suffering of the Palestinians, Moscow says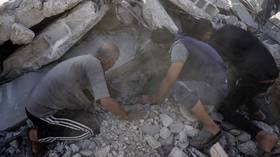 The US is using its veto power in the UN Security Council to sabotage international efforts to end the bloodshed in the Middle East, despite dire warnings from the organization's own staff about the staggering civilian death toll in Gaza, the Russian Foreign Ministry stated on Monday.
"All UN representatives have been jointly calling for an 'immediate humanitarian ceasefire', which would end this inhumane collective punishment, the suffering of children, women, and the elderly," the Foreign Ministry declared in a statement on its website.
"However, the Security Council can't execute its direct mandate and remains paralyzed thanks to the position of a single country – the US."
The ministry added that Israel "fully bears" a duty to observe international law on Palestinian territories, including Gaza.
The US and its allies vetoed three resolutions, two sponsored by Russia and one by Brazil, calling for a ceasefire between Israel and Palestinian militants. Russia and China, meanwhile, voted against an alternative resolution introduced by Washington.
The US has since called for "humanitarian pauses," but argued that a comprehensive ceasefire at this time would only help Hamas, a Palestinian militant group that attacked Israel on October 7, killing some 1,200 people, mostly civilians, and prompting retaliatory airstrikes. Israel has agreed to maintain four-hour daily pauses to allow civilians to escape to the southern part of the Palestinian enclave as the IDF continues to encircle Gaza City.
More than 11,000 Palestinians, including many women and children, have been killed by Israel strikes since October 7, according to officials in Hamas-run Gaza. Human rights groups warn that the dire situation is exacerbated by a lack of food, fuel and other basic supplies.
"The unfolding catastrophe in Gaza makes the need for a humanitarian ceasefire more urgent with every passing hour," UN Secretary General Antonio Guterres said last week, describing the Palestinian enclave as "a graveyard for children."
On Sunday, several UN agencies released a joint statement, renewing the plea to urgently end the hostilities. "Decisive international action is needed now to secure an immediate humanitarian ceasefire and prevent further loss of life, and preserve what's left of the health care system in Gaza," they wrote.

You can share this story on social media: