Stop sending nudes, Russian official tells women
A police spokesperson shared the appeal on a personal Telegram channel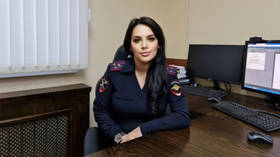 Women should think twice before sending intimate photos to their significant other and exposing themselves to revenge porn or extortion in case of a breakup. This bit of friendly advice appeared online on Thursday courtesy of Gayana Gariyeva, the head of press for the police in the Russian republic of Dagestan.
"Each of us sincerely believes that our One True Love will be with us forever," Gariyeva wrote. "Alas, sometimes a prince on a white horse turns out to be a goat on a starving donkey."
"No matter how much you fall in love, no matter how fascinated you are with this prince, don't lose your mind! Do not exclude the possibility of a quarrel and a break-up," she advised.
Those who "boldly and thoughtlessly" sent their intimate photos, opening themselves "body and soul" to their love, can't take them back in the event of a break-up, Gariyeva explained.
This leaves them vulnerable to men who are "angry, offended, and want revenge," or those who refuse to accept the break-up and try to get back together through pressure, or even the "dirty, greedy bastard" who demands money or he will leak everything online.
"There are a lot of noble and worthy men," Gariyeva wrote. "But there are also plenty of scoundrels! Otherwise, there wouldn't be so many of you writing to me and begging for help."
Gariyeva noted that many women write to her seeking help, but there is nothing she can do if they don't come forward – which presents its own risks regarding privacy.
"My dear girls, we are not men. Unlike them, we have only one head," Gariyeva concluded. "Try not to turn it off!"
You can share this story on social media: