Russia can't be defeated on battlefield – Kremlin
Presidential spokesperson Dmitry Peskov said officials in Kiev and Washington must face up to reality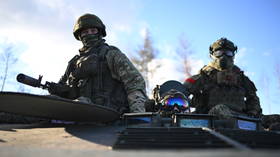 There is no way the Russian military can be defeated, Kremlin spokesperson Dmitry Peskov has insisted. His comments follow recent claims by President Vladimir Putin that Western governments were lowering their expectations regarding the outcome of the Ukraine conflict.
Speaking to Russian journalist Pavel Zarubin on Thursday, Peskov stated "it is high time that everyone in Kiev and Washington realized: it's impossible to defeat Russia on the battlefield."
Putin claimed on Friday that Western powers were "changing their tune now [and] saying different things" compared to their previous insistence on inflicting a military defeat on Russia.
Also last week, Ukraine's top military commander, General Valery Zaluzhny, admitted in an article published by The Economist that Kiev's troops were unlikely to pull off a "deep and beautiful breakthrough" in the conflict with Russia, unless provided with more advanced weapons by the West.
He suggested that the fighting was deadlocked and could "drag on for years," although Peskov responded to that assessment by insisting that Moscow's forces were not at a stalemate. He further claimed that Ukraine's hopes of defeating Russia had been "absurd" right from the outset.
Citing anonymous US officials, NBC reported last week that behind closed doors Washington had been pushing Kiev toward negotiations with Moscow. The outlet also claimed that the US had been conducting "delicate" unofficial discussions with Kiev regarding concessions Ukraine would be willing to make in potential peace talks.
A State Department spokesperson denied the claims, while Ukrainian President Vladimir Zelensky repeated that his government would not negotiate unless Russia withdraws its troops from territory within Ukraine's 1991 borders.
According to NBC, Western officials are increasingly concerned that Ukraine is "running out of forces," and also harbor fears about their own ability to shore up Kiev with weapons shipments in the long run amid the Israeli-Palestinian conflict.
Media speculation has recently intensified after Ukraine failed to make any notable gains despite a months-long counteroffensive. According to the Russian Defense Ministry, Kiev has lost more than 90,000 troops in the operation, which began in early June.
You can share this story on social media: