Ukrainians believe corruption country's main problem – poll
Researchers asked people what worries them the most besides the conflict with Russia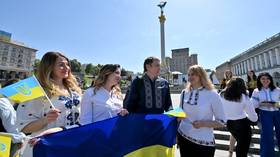 More than half of Ukrainians consider corruption to be their country's most pressing problem aside from the ongoing military hostilities, a fresh poll has revealed.
The researchers from the Kiev International Institute of Sociology (KMIC) asked people to name three things that worry them the most besides the conflict with Russia.
According to the results of the poll, which were published on Wednesday, 63% of those surveyed named the high level of corruption as the biggest problem faced by Ukraine. Low wages and pensions were singled out by 46%.
Between 20% and 24% out of the 2,007 people who took part in the study also said that they are concerned about high utility bills, demographic issues that might be caused by Ukrainian refugees not returning from abroad, and high unemployment.
The survey also revealed that 15% of Ukrainians are troubled the country hasn't been invited to join NATO, while 8% worry that Kiev's negotiations on becoming an EU member might fail.
"As we've repeatedly pointed out, corruption remains a powerful trigger for the Ukrainians," who want the problem to be tackled effectively by the authorities, KIIS head Anton Grushetsky said in comments to the poll. "Notably, the issue of their own well-being (such as pensions/salaries, unemployment or tariffs) is less of a concern for the population than the injustices caused by corruption."
Earlier this week, an article by Time magazine portrayed Ukrainian President Vladimir Zelensky as being unable to deal with corruption not only in the country, but also in his own government. "People are stealing like there's no tomorrow," a top presidential adviser told the outlet. The firing of Ukrainian Defense Minister Aleksey Reznikov over graft allegations in early September has failed to change the situation, another source was cited as saying.
Politico reported last month that the Biden administration was far more worried about corruption in Ukraine than it admitted publicly. The outlet said that it had obtained a confidential US strategy document, which warned that corruption could cause Western allies to give up on supporting Kiev amid the conflict with Moscow. The anti-graft reforms that Washington wants Ukraine to implement shouldn't be delayed, the document stressed.
In September, the Ukrainian outlet Zerkalo Nedeli claimed that Zelensky had ordered Ukrainian journalists not to mention the issue of corruption in their reporting until the end of the Russia-Ukraine conflict.
You can share this story on social media: