Zelensky fears Israel will distract from Western aid to Kiev
The Ukrainian president has visited NATO headquarters, concerned that the flow of Western help could be imperiled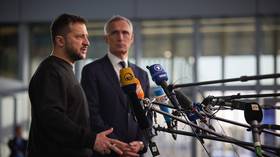 Ukrainian President Vladimir Zelensky has voiced concerns that the security crisis in the Middle East could draw international attention away from his country. He blamed Russia for the Hamas incursion into southern Israel last week.
"If international attention shifts away from Ukraine, one way or another, it will have consequences," the Ukrainian leader warned in an interview with France 2 on Tuesday.
"The fate of Ukraine depends on the unity of the rest of the world," he added, expressing hope that Washington would ensure continued assistance.
Zelensky was visiting Romania on Tuesday, where he met Prime Minister Marcel Ciolacu. Speaking during a joint press conference, the president reiterated his claim that Moscow was to blame for the attack by the Palestinian militant movement.
Russia "helped Hamas and is behind Hamas," he proclaimed without offering any specific evidence, referring instead to "signals" on social media.
Earlier in the week, Zelensky stated that according to Ukrainian intelligence services, Russia was "interested in triggering a war in the Middle East" to "undermine world unity" and "destroy freedom in Europe."
Russian Foreign Ministry spokeswoman Maria Zakharova mocked Zelensky's remarks, suggesting that they may have been fueled by substance abuse.
On Wednesday, Zelensky made an unannounced visit to NATO headquarters in Brussels, where he reportedly sought reassurances that the Hamas raid and Israel's retaliation would not distract from attention to Ukraine. Speaking to journalists alongside NATO Secretary General Jens Stoltenberg, Zelensky urged world leaders to go to Israel in a gesture of support to prevent further escalation. "We have not to give possibility for aggressors even to think about the third world war, the new wave of aggression," he said, contrasting the approach to having "dialogue with Iran or Russia." Some Western media reported that Iran may have been involved in the Hamas attack, but the assessment has not been supported by US intelligence. Tehran has denied those claims.
Last month, the US Congress declined to allocate money for Ukraine aid in a 45-day stopgap spending bill. The White House reportedly wants to include it in a package meant for Israel to overcome resistance from some lawmakers.
The Pentagon announced its latest $200 million package of assistance to Ukraine on Wednesday.
The Zelensky government has rejected the idea of peace talks with Russia and seeks a military victory with Western help instead. Moscow has argued that the US and its allies are using Ukrainians as "cannon fodder" in a proxy war against Russia.
You can share this story on social media: