US has enough weapons for both Israel and Ukraine – Pentagon
The American military has brushed off media concerns about ammunition and equipment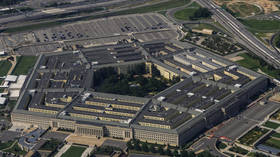 Washington can meet all of Israel's requests for weapons, equipment and ammunition while continuing to support Kiev, a Pentagon spokeswoman told reporters on Monday.
"We are able to continue our support both to Ukraine, Israel, and maintain our own global readiness," a senior Department of Defense official said in a background briefing.
"While we are providing and will continue to provide a significant amount of support to Ukraine, we are careful about ensuring we can also respond to other crises and contingencies, support other partners and maintain our own military readiness and our ability to support others," the official later added.
The US has been able to meet "every every request that our Israeli counterparts have made" and anticipate "continual delivery" on some of those requests, the official also said. While declining to discuss specifics, the spokesperson said this did apply to 'Iron Dome' systems and other air defenses.
The Pentagon is "working as fast as possible" to expedite the delivery of "critically needed" ammunition and equipment, as well as contacting military contractors to expedite pending Israeli orders.
When reporters voiced concerns about how the US weapons might be used, the Pentagon official said there were "robust end-use monitoring practices and procedures" in place, and that the US was "in constant dialogue with the Israelis about their operational plans."
US cargo planes have already begun landing in Israel, even as the government announced a "total siege" of Gaza in reprisal for Hamas incursions that began on Saturday. The conflict, which began on Saturday, is the bloodiest that Israel has seen since 1973.
The Pentagon has described the deployment of the USS Gerald R. Ford carrier strike group to the eastern Mediterranean as "an unequivocal demonstration in deed and not only in words of US support for Israel's defense." The carrier is intended to "serve as a deterrent signal to Iran, Lebanese Hezbollah, and any other proxy across the region who might be considering exploiting the current situation to escalate conflict," the official said.
You can share this story on social media: