Russia will 'liberate' more Ukrainian regions – ex-president
The military operation in Ukraine will continue until "historic Russian territories" are freed, Dmitry Medvedev has threatened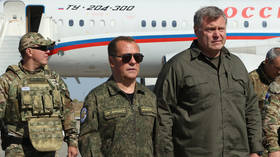 Moscow will add more Ukrainian regions to its territory, former Russian president Dmitry Medvedev warned on the first anniversary of the country's unification with the People's Republics of Donetsk and Lugansk, and Zaporozhye and Kherson regions.
The residents of the four territories took part in referendums a year ago and made the decision "to be with their Fatherland," Medvedev wrote on his Telegram channel on Saturday.
"This choice became a symbol not only of the restoration of historical justice but also of the unity of the Russian people, their colossal will and dedication," he said.
Speaking about the ongoing fighting in Ukraine, Medvedev, who now holds the position of deputy head of Russia's Security Council, insisted that Moscow's military operation would continue until the current regime in Kiev is "destroyed and the historic Russian territories are liberated from the enemy."
"Victory will be ours. And there will be more new regions within Russia," the former president wrote.
The signing of agreements incorporating the People's Republics of Donetsk (DPR), Lugansk (LPR), and Zaporozhye and Kherson regions with the Russian state took place at the Kremlin on September 30, 2022.
It followed referendums in the four regions held between September 23 and 27 last year. During the votes, the number of those who supported unification with Russia stood at 99.23% in the DPR, 98.42% in the LPR, 87% in Kherson Region, and 93.11% in Zaporozhye Region. The results have not been recognized by the Ukrainian authorities and their Western backers.
In a speech on Saturday, Russian President Vladimir Putin said the unification of the new territories was a "conscious, long-awaited, hard-won, and genuinely popular decision ... made collectively through referendums in full compliance with international norms."
You can share this story on social media: