Ukraine's counteroffensive is done on foot – Kiev's intelligence chief
Kirill Budanov says the use of armored vehicles by Ukrainian forces is minimal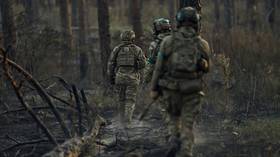 Most of Kiev's counteroffensive operation is being conducted without the use of vehicles, Ukrainian military intelligence chief Kirill Budanov revealed in an interview with the Wall Street Journal published on Thursday.
"Unfortunately, most of our offensive is now on foot," Budanov said, noting that the use of heavy armor is "minimal." Budanov drew parallels to the battle for the city of Artyomovsk, also known as Bakhmut, where he said Russian forces also primarily waged war on foot.
As noted by the WSJ, the Ukrainian military appears to no longer believe that tactics being taught by the West can work on the modern battlefield.
Washington and its allies have been pushing Ukrainian commanders to use combined-arms maneuvers, which entail using large groups of armored vehicles and tanks to make rapid breakthroughs. However, the prevalence of modern combat drones, which can detect and destroy a target within a matter of minutes, may have made such tactics obsolete, according to military experts.
"The days of massed armored assaults, taking many kilometers of ground at a time, like we did in 2003 in Iraq – that stuff is gone because the drones have become so effective now," retired US Army Sergeant First Class Bradley Crawford told the outlet.
Nevertheless, Kiev's Western backers have repeatedly expressed frustration over the slow pace of Ukraine's much-touted counteroffensive that was launched in early June and was expected to turn the tide of the conflict.
Throughout the summer, Kiev's forces have ultimately failed to make any notable territorial gains and have suffered heavy casualties as they tried to break through Russia's defenses consisting of vast minefields, as well as heavy artillery and swarms of drones.
According to Russia's Defense Ministry, the number of Ukrainian servicemen killed since the start of the counteroffensive has surpassed 83,000. It also reported that Kiev's forces had lost more than 10,300 pieces of military equipment since June, including a number of US-made Bradley infantry fighting vehicles, German-made Leopard tanks, and British-made Challenger tanks.
Russian Defense Minister Sergey Shoigu said that such heavy casualties were the result of Kiev throwing untrained soldiers into "senseless assaults and slaughter." He added that these "cynical actions by the West and their henchmen in Kiev are only pushing Ukraine towards self-destruction."
You can share this story on social media: