'Dead' Russian commander appears at live meeting
Admiral Viktor Sokolov was shown during a virtual gathering of senior military officials after Kiev claimed he had been killed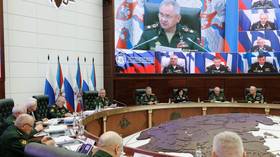 Russian Admiral Viktor Sokolov – who has been declared dead by Ukraine – participated in a high-profile online meeting on Tuesday, images released by the Russian Defense Ministry show.
The Ukrainian military claims that it killed Sokolov, the commander of the Russian Black Sea Fleet, last week.
Kiev's assertion came on Monday from its Special Operations Command, which bragged about two recent missile attacks on the Crimean Peninsula. The strike on the headquarters of the Black Sea Fleet in Sevastopol last Friday resulted in the deaths of 34 officers, "including the commander of the Black Sea Fleet," the Ukrainian military announced on social media.
On Tuesday, Russian Defense Minister Sergey Shoigu chaired a regular briefing of senior military officials. Sokolov's face could be seen in a photo and video materials from the event, displayed on a large screen behind the minister's back with the caption 'ChP' (an abbreviation for the Black Sea Fleet in Russian). Presumably, the admiral was participating in the meeting remotely, as did other naval commanders displayed alongside him.
Kiev has been raising the claimed kill count in the Sevastopol strike in recent days. On Sunday, Ukrainian military intelligence chief Kirill Budanov stated that the attack killed at least nine people and injured 16 others, including two generals. Speaking to the local branch of the US-government funded outlet Voice of America, he said he could not confirm the status of Sokolov.
The Russian Defense Ministry reported a single service member missing in action on the day of the strike.
British media outlets have claimed that Kiev used UK-provided Storm Shadow missiles in the attack.
You can share this story on social media: