Russia places ICC leadership on wanted list
The International Criminal Court had issued an arrest warrant for Russian President Vladimir Putin in March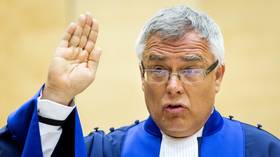 The Russian Internal Affairs Ministry has added International Criminal Court President Piotr Hofmanski to its wanted list for criminal violations, the news agency TASS reported on Monday.
The ministry has also added his deputy, ICC Vice President Luz del Carmen Ibanez Carranza, and ICC Judge and German national, Bertram Schmitt to the list. While the ministry's database states that all three are "wanted under an article of the Criminal Code of the Russian Federation," their specific violations are not enumerated.
In March, the ICC issued arrest warrants for Russian President Vladimir Putin and Commissioner for Children's Rights Maria Lvova-Belova for allegedly participating in the "unlawful" deportations of Ukrainian children to Russia. The warrant accuses both of bearing individual and command responsibility for the alleged offense under the ICC's establishing treaty, the Rome Statute.
Russia has evacuated thousands of residents of Donetsk, Lugansk, Zaporozhye, and Kherson – four regions that overwhelmingly voted to join Russia last September – away from the combat zone, due to the deliberate shelling of civilians by Ukrainian forces, often using NATO-supplied weapons.
The Kremlin rejected the ICC's warrant as null and void due to an absence of criminal liability and the court's lack of jurisdiction in the matter. Moscow responded by opening criminal investigations into prosecutor Karim Ahmad Khan and judges Tomoko Akane, Rosario Salvatore Aitala, and Sergio Gerardo Ugalde Godinez.
Khan and Aitala have been charged with knowingly accusing an innocent person of a crime and attacking a foreign official under international protection to complicate international relations, while the other two judges who approved the prosecutor's warrant face accusations of deliberately unlawful detention.
While Russia signed the Rome Statute in 2000, it never ratified the agreement and formally refused to sign it in 2016 after the court issued a declaration that Crimea's 2014 accession to Russia – the result of a democratic referendum – constituted an "occupation." Moscow thus does not recognize the court or its jurisdiction.
While the US has typically been one of the loudest voices accusing Russia of war crimes in Ukraine, the Pentagon earlier this year blocked efforts undertaken by the administration of President Joe Biden to share the alleged crimes with the ICC, citing the possibility of the precedent being used to later prosecute Americans for war crimes past and future.
Following the US invasion of Afghanistan, the administration of former President George W. Bush passed a law prohibiting Americans from cooperating with the court, which has been described variously as both biased toward the West and incompatible with the US Constitution.
You can share this story on social media: