Fugitive British man arrested in Moscow – media
The UK national sought by Malta has reportedly been residing in Russia since 2020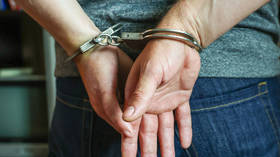 Russian law enforcement authorities have detained a British national who is wanted by Interpol on suspicion of committing a serious crime in Malta, several media outlets reported on Saturday.
The suspect's identity has not been officially published, although some outlets referred to him as "Dean John S."
His car was stopped by traffic police in southern Moscow as part of a routine check, and officers subsequently discovered that he was on an Interpol wanted list. Malta had sought international assistance in locating the individual, according to reports.
He is wanted in the country in connection with a crime "linked to a danger to health and life," although no additional details in relation to the case have been made public.
The suspect was reportedly granted a residence permit in Russia in 2020 and was living in an apartment just south of Moscow city center. Neither Interpol nor the Russian law enforcement authorities have commented on the developments so far.
Earlier this month, Major General Valery Kalachev, the head of Russia's National Central Bureau of Interpol, said Russia had managed to maintain a high level of cooperation with the organization. This was despite pressure from some "unfriendly nations" that had sought to expel Moscow from the international police cooperation body altogether.

Russia is actively cooperating with Interpol in fighting terrorism, organized crime, and drug trafficking, Kalachev added at the time. He also pointed to the reluctance of some Western nations to work with Russia amid the conflict between Moscow and Kiev.
"EU nations refused to hand over a total of around 100 criminals in 2022 and 2023," he told TASS.
In mid-August, the Russian Interior Ministry denied that it was limiting Interpol's powers on Russian territory. The ministry specifically stated that the national bureau was continuing to perform tasks relating to the detention of wanted individuals through Interpol channels. Staff are likewise continuing to follow extradition procedures, including by accompanying wanted persons during extradition from foreign states, it added at the time.
You can share this story on social media: