Russian warplane crashes – MOD
The two crew members of the Su-34 jet safely ejected during a training incident, a statement said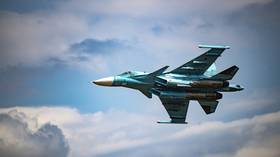 A Russian Sukhoi Su-34 jet crashed during a training exercise in Voronezh Region on Wednesday morning, the Defense Ministry has said.
The incident happened during a regular drill, according to a statement from the ministry. Both pilots in the twin-seater aircraft safely ejected and have already returned to base, it added.
The fighter-bomber was said to have crashed in a remote area and was not carrying munitions during the exercise. The ministry believes that a technical malfunction was the cause of the incident.
Unconfirmed reports by Russian media outlets claimed that the plane had come down in the Kashira district, some 35km south of the regional capital Voronezh. Images purportedly shot in the area showed smoke rising in the distance and debris lying in a field.
Last week, the Russian military reported the loss of a Sukhoi Su-24 fighter jet during a training exercise in Volgograd Region. The ministry did not clarify the status of the crew, although Russian media reported that the two pilots had not ejected and had been killed.
You can share this story on social media: