Training and tactics behind Ukraine's counteroffensive failures – FT
Troops consider Western instruction ineffective and inappropriate, the outlet has reported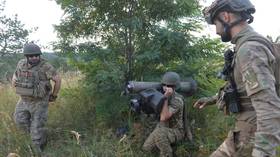 The training given by the US and other Western states to Ukrainian troops has not prepared them for their counteroffensive against Russian forces, the Financial Times reported on Friday, citing Western analysts and military sources.
So far, the Ukraine has "not achieved the desired decisive breakthrough," a source told the outlet, adding that some Western officials believe that Kiev has failed to use the opportunities offered by massive Western military aid at a time of "possibly peak political support."
Some US officials have privately complained that Ukrainian troops "failed during training to master modern operations that combine mechanized infantry, artillery and air defense." Ukraine's losses early into the offensive were reportedly "unsustainable," the sources claimed, amounting to "nearly a fifth of the NATO kit provided for the counteroffensive" in late May and early June alone. Such setbacks forced Kiev to change tactics and go back to an "attritional approach."
The Ukrainian forces found it "impossible" to follow a NATO doctrine of combined arms warfare that involves coordinated actions by infantry, armor, artillery, and air defense, the paper said, adding that Kiev's military still struggles to run operations "above the level of company (200 men) or even platoon (20-50)."
According to analysts interviewed by FT, Western training of Ukrainian troops was "too short" and poorly adapted to conditions on the battlefield.
One Ukrainian Special Forces unit commander complained that if he had followed the "bad advice" he'd received from Western trainers, he would "be dead."
Military analysts Michael Kofman and Rob Lee pointed to "a poor understanding of how Ukraine's military fights, and of the operating environment writ large, may be leading to false expectations, misplaced advice and unfair criticism in Western official circles," in a report on the issue published in early September.
US officials, in turn, have questioned Kiev's decision to expend its more experienced troops on a "futile defense" of the Donbass city of Artemovsk (Bakhmut in Ukrainian), which was captured by Russian forces in May 2023 following a months-long battle.
Russian forces, meanwhile, continue to "learn from their foes" and adapt their tactics, analysts said. In addition, Moscow's forces still have the edge when it comes to drone warfare. Russian Lancet-3 kamikaze drones represent a "particular menace" as they are capable of autonomously tracking their targets, a capacity Kiev's drones lack.
Under the current circumstances, any Ukrainian success will be "slow-going at best" and will continue to depend on Western allies "increasing production of ammunition and other equipment to sustain an attritional war."
You can share this story on social media: