British Army cuts Ukrainian training over noise complaints
Residents complained of constant explosions coming from a base in Kent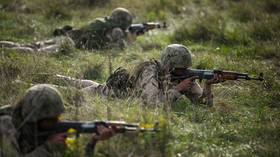 The British Army has cut training hours for Ukrainian soldiers at a base in Kent, England after residents complained about noise and smoke from the range, The Times reported on Monday. The decision shortens the already rushed training program that Kiev's forces receive in the UK.
The Ministry of Defense had to cut exercises at Lydd Ranges by a third after Lydd Town Council received a "number of letters" of complaint, the British newspaper reported.
"When you have a constant 'boom boom' noise you think, 'Well I can't shut the windows because I need some air,'" a woman who has lived beside the base for seven years said, "When they let off the explosions they do vibrate the house. I was writing a letter one day and I dropped the pen because it really went 'kaboom.'"
Another local man told the Times that he wants the facility shut entirely. "I say close it," he said. "The explosions are very noisy indeed. They make the windows rattle."
Base commander Lieutenant Colonel Mark Powell said that the decision to reduce training was made to maintain a good relationship with the "good people of Lydd."
Ukrainian recruits typically receive five weeks training at facilities such as Lydd Ranges. The defense ministry stated the previous month that the British military has trained 20,000 Ukrainian troops since the conflict with Russia began last year. Many of those troops had no prior military experience and returned to Ukraine having completed only basic tutorials on weapons skills, first aid, and fieldcraft.
British-trained recruits have taken part in Ukraine's ongoing counteroffensive against Russian forces, with Kiev's 82nd Air Assault Brigade equipped with British tanks and manned by soldiers trained in the UK. However, Ukraine has suffered horrendous casualties while attempting to break south through Russia's multi-layered network of trenches and fortifications.
According to the latest figures from the Russian Ministry of Defense, the counteroffensive has cost Kiev more than 66,000 men and 7,600 pieces of heavy weaponry in just over three months.
You can share this story on social media: