Borrell calls for intensified EU training of Ukrainian conscripts
The bloc should train an additional 10,000 troops by the end of the year, its foreign-policy chief has said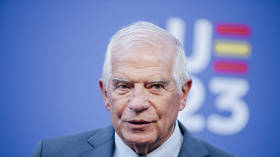 EU nations should train more Ukrainian troops than they are at present, the bloc's top diplomat Josep Borrell said on Wednesday, following an informal meeting of its defense ministers. The official called for an additional 10,000 Ukrainian conscripts to be trained by the end of the year.
The training of Ukrainian service personnel in the EU "has been implemented at an unprecedented speed," Borrell told the media in the Spanish city of Toledo. As many as 25,000 soldiers had been prepared for battle as part of the EU Military Assistance Mission (EUMAM), he said, adding that the bloc is on course to reach the stated target of 30,000 trained Ukrainian soldiers by the end of October.
"I am always saying that 'we need to do more and faster'," the EU's top diplomat said, adding that he suggested the objective for the mission be raised to 40,000 Ukrainian soldiers trained before the end of the year.
Member states should also focus on "specialized training for smaller groups and for command capacities," Borrell said. Brussels is also exploring the "possibility" of including F-16 pilot training in the project, he told journalists, adding that "our mission should be also able to contribute to the training of these pilots for these planes."
The EU nations will also have to spend billions of euros to ensure Kiev's security in the coming years, the official said, adding that a special "Ukraine Assistance Fund for the period 2024-2027" needed to be created, to "ensure the sustainability of our military assistance."
The fund should amount to €5 billion ($5.46 billion) every year, according to Borrell. He called it a "core element of our long-term contribution to the security of Ukraine," adding that the sum should be seen as a ceiling rather than a target and it would be "much better," if the EU could spend less.
The "security" funding should also come separately from EU efforts to provide Kiev's troops with munitions, as part of what the foreign-policy chief called "the three-track ammunition initiative." The bloc had already spent about €1.1 billion ($1.2 billion) to supply Ukrainian forces with some 224,000 rounds of ammunition and about 2,300 missiles by the end of May.
Brussels has also signed a "framework agreement" with arms industries for member states to "pass common orders," the official said, adding that the EU Commission needs to focus on ramping up industrial capacities to produce more arms "in Europe."
Borrell's words come amid a continuing Ukrainian offensive that has not brought any tangible results in the two months since its launch. Kiev's forces have suffered heavy losses in the operation, despite its Western backers supplying it with hundreds of heavy equipment pieces, including tanks, infantry fighting vehicles, and armored personnel carriers.
You can share this story on social media: