Ukraine operation will last for a 'few years' – top Russian MP
Moscow should not underestimate Kiev's defense capabilities, which have been greatly boosted by the West, Pyotr Tolstoy has cautioned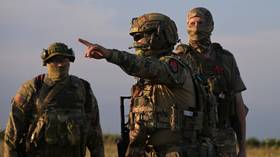 The Ukraine conflict is unlikely to end in the near future because Kiev is putting up a strong resistance due to massive Western military support, Russian State Duma Deputy Chairman Pyotr Tolstoy has predicted.
In an interview with a Russian TV presenter Vyacheslav Manucharov released on Monday, Tolstoy said that he believed that the hostilities between Moscow and Kiev would continue for "another two to three years."
"It won't be quick. There is serious resistance, the enemy is tough. We should not underestimate the fact that almost all countries are supplying [Kiev] with weapons and materiel. Ukraine has nothing of its own, it is fighting only with what it has received," the lawmaker stated.
Tolstoy acknowledged that the conflict would take its toll on Russia, but argued that the military campaign must continue so that Russians "do not feel humiliated" after watching their compatriots being burned alive. He was referring to the deadly clashes in the Ukrainian city of Odessa in May 2014, in which 42 activists were burned alive in the city's house of unions shortly after a Western-backed coup in Kiev.
Since the start of the Ukraine conflict in February 2022, Western countries have provided tens of billions of dollars in security assistance to Kiev. The US has lead the pack with a whopping $43 billion. Russia has repeatedly warned that this aid will only prolong the hostilities and will not change the ultimate outcome.
Russian officials have also said on numerous occasions said the military campaign in Ukraine will end once Moscow achieves its goals, including protecting Donbass from "genocide" and laying the groundwork for "conditions guaranteeing Russia's security."
Nevertheless, Russia has not closed the door to negotiations with Kiev. Last autumn, however, Kiev banned all talks with the current leadership in Moscow after four former Ukrainian regions overwhelmingly voted in public referendums to join Russia.
You can share this story on social media: