West destroying global economic system – Putin
Many nations, however, want to work for all of mankind, not for the wealthy few, the Russian president has said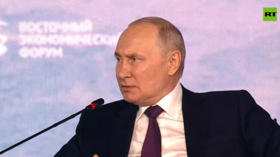 Western countries are destroying the existing framework of global economic relations that they helped to build in the first place, Russian President Vladimir Putin said on Tuesday, adding that many countries are opposed to this.
Speaking at the plenary session of the Eastern Economic Forum in Vladivostok, Putin stated that the landscape of the international economy is changing in part because "some countries, primarily Western nations, are destroying the system of financial, trade, and economic relations with their own hands."
However, this destructive activity coincided with the expansion of "real business cooperation," involving many nations around the world that resist any external pressure and pursue their own national interests, Putin said.
"They prioritize not temporary political events, but the promotion of their own projects... that bring direct and long-term benefits to their populations," Putin said, adding that this leads to the emergence of a new international model "shaped not by Western standards [and] catering to the selected 'golden billion,' but all of humanity... and the developing multipolar world."
Putin's comments come after Russian Foreign Minister Sergey Lavrov said earlier this month that the BRICS economic group – which recently announced an unprecedented expansion – and the Shanghai Cooperation Organization (SCO) are gaining more international clout as many nations seek to bypass Western-dominated international institutions that fail to address their grievances.
In June, he also estimated that one in four countries in the world is to some extent sanctioned by the US or European nations. According to Lavrov, this means that the West is using the global economy "as an instrument of coercion, blackmail, and punishment."
Western countries imposed particularly harsh sanctions on Russia over the Ukraine conflict, including the freezing of Russian gold and foreign exchange reserves to the tune of around $600 billion, a move that Moscow condemned as "theft."
You can share this story on social media: