Passenger plane crash-lands in Russia
A Ural Airlines flight was forced to perform an emergency landing in a field in Novosibirsk Region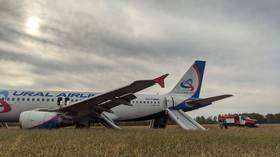 An Airbus A320 en route from Sochi to Omsk declared a mid-flight emergency on Tuesday morning and was redirected to an alternate airfield in Novosibirsk, but failed to reach it, emergency services told Russian media.
The aircraft was forced to perform an emergency landing in a field 180km away from Novosibirsk International Airport. The incident was reportedly caused by a hydraulics malfunction, according to preliminary reports.
There were up to 170 people aboard the distressed Ural Airlines flight, including 23 children. Early reports noted that none of the passengers or crew suffered any serious injuries. The authorities said the aircraft remained in one piece upon landing, there was no fire on board, and that everyone safely evacuated the plane using emergency slides.
Multiple Telegram channels shared pictures from the scene, showing the aircraft with inflated evacuation slides in a grain field surrounded by first responders. Groups of passengers could be seen standing in the distance in other photos.
The governors of Novosibirsk and Omsk Regions promised to provide the passengers with all the necessary assistance, including temporary shelter and transportation. The Russian aviation authorities have launched a probe into the circumstances of the incident.
In 2019, another Ural Airlines plane performed a similar miracle landing in a cornfield near Moscow, after the airliner hit a flock of birds upon takeoff. Having no time to dump its fuel, the pilots decided to land the heavy-loaded aircraft with its wheels up, and the crew managed to safely evacuate all 226 passengers.
You can share this story on social media: