Moscow should suspend diplomatic relations with EU – Medvedev
The bloc's restrictions on Russians bringing in personal items is "a spit in the face," the ex-president has said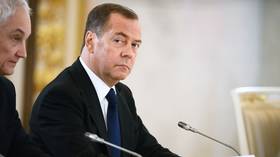 EU rules banning Russian nationals from bringing personal cars and smartphones into the bloc are downright insulting and degrading, former Russian President Dmitry Medvedev has insisted. He urged Moscow to suspend diplomatic relations with the bloc.
In a statement on Telegram on Monday, Medvedev, who is Deputy Chair of the Russian Security Council, mockingly praised what he described as "straightforward and honest Brussels bosses."
"Directly and without beating around the bush, they told all Russians: 'We see you as second-rate people.'"
He went on to suggest that the sweeping restrictions were not a punishment for the government in Moscow, but rather "a real spit in the face of every single Russian citizen."
As for possible retaliation, Medvedev ruled out a symmetrical response to EU citizens. "Unlike many national leaders whose relatives worked in the [Nazi] SS, we are not racists," he said, adding that foreigners who visit Russia tend to love the country.
"It would be better to just temporarily suspend diplomatic relations with the EU. And bring diplomatic personnel back to our country," the ex-president suggested, arguing that such a move would make European leaders "fill their pants" because "embassies are evacuated before very specific events," and they would not know what to expect from Russia.
Medvedev's remarks came in response to the latest iteration of 'frequently asked questions' released by the EU Commission on Friday. In the document, EU officials clarified that Russian nationals are not allowed to bring a wide range of items, including all types of phones, soap and even toilet paper, into the bloc.
Russian nationals are also prohibited from bringing in cars regardless of "whether the use of the vehicles is private or commercial," the FAQ said, noting that "this is most likely the case for vehicles having a Russian license plate and are registered in Russia."
On Monday, however, European Commission spokesman Daniel Sheridan Ferrie signaled that the sanctions do not necessarily imply that Russians would be stripped of their personal belongings listed in the document, explaining that a tourist coming to the EU with blacklisted items is not necessarily trying to circumvent sanctions.
The restrictions are in line with the sweeping economic and financial sanctions that the West slapped on Russia after it launched its military campaign in Ukraine in February 2022.
You can share this story on social media: