Deal reached to allow humanitarian aid to Nagorno-Karabakh
The agreement between Azerbaijan and its breakaway region comes amid heightened tensions and a looming humanitarian crisis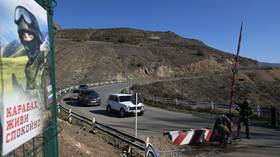 Authorities in Nagorno-Karabakh and Azerbaijan have agreed to allow humanitarian aid to flow to Baku's predominantly Armenian-populated breakaway region along two routes, local officials and media have said.
Armenia and Nagorno-Karabakh have long insisted that Azerbaijan lift a blockade on the key Lachin corridor Baku took control of three years ago, the only direct route between the two sides. Meanwhile, the deal also means that Baku can restore a direct line to its breakaway region for the first time since the war between Armenia and Azerbaijan in the early 1990s.
On Saturday, Karabakh authorities quoted by Armenpress news agency said they had decided to "allow the entry of Russian humanitarian shipments to our republic through the city of Askeran," referring to a settlement not far from where Baku controls. They said the move sought "to mitigate the acute humanitarian problems caused by the complete blockade implemented by Azerbaijan."
In addition, Baku and Karabakh authorities agreed to restore "humanitarian cargo transportation by Russian peacekeepers and the International Committee of the Red Cross… through the Lachin corridor," the report added, referring to the only road link between the contested region and Armenia.
Hikmet Hajiyev, a foreign policy advisor to Azerbaijani President Ilham Aliyev, told Reuters that the two roads would be opened simultaneously but said that an Azerbaijani checkpoint in the Lachin corridor would remain in place.
Armenia has consistently accused Azerbaijan of unlawfully obstructing the Lachin corridor, an allegation refuted by Baku, which asserts that it has implemented measures to prevent arms smuggling along this route.
This settlement follows phone discussions between Armenian Prime Minister Nikol Pashinyan and the leaders of France, Germany, Iran, and Georgia, as well as US Secretary of State Antony Blinken, on Saturday. On the same day, the parliament of Nagorno-Karabakh elected a new president, Samvel Shahramanyan. Neither Baku nor the EU recognized the legitimacy of the election.
Recent tensions between Armenia and Azerbaijan over Nagorno-Karabakh, a predominantly ethnic Armenian region that seceded from Baku, have escalated in recent weeks. Both countries have accused each other of provocative actions, leading to clashes that left several Armenian service members dead.
The roots of this conflict trace back to the waning days of the Soviet Union when Nagorno-Karabakh declared independence from Baku. These tensions escalated into a full-scale war in the early 1990s, culminating in a 1994 ceasefire that has since been marked by sporadic fighting.
The Second Nagorno-Karabakh War in 2020, one of the bloodiest confrontations between Armenia and Azerbaijan, resulted in Baku gaining control of a substantial portion of territory. The hostilities concluded with a Russian-mediated ceasefire.
You can share this story on social media: