Armenia ready for 'urgent' talks with Azerbaijan – PM
Nikol Pashinyan has said that he wants to engage with Baku to ease border tensions that recently led to several deaths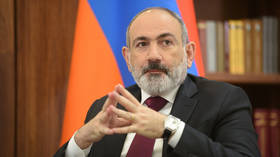 Armenian Prime Minister Nikol Pashinyan has signaled that he is ready to hold de-escalation talks with neighboring Azerbaijan to defuse rising tensions over the disputed Nagorno-Karabakh region.
According to a readout of Pashinyan's phone call with French President Emmanuel Macron on Saturday, the prime minister lamented the "deepening humanitarian crisis in Nagorno-Karabakh." During the conversation, however, Pashinyan "expressed readiness to hold urgent discussions with the president of Azerbaijan [Ilham Aliyev] aimed at reducing tensions," while pledging to resolve the disagreements diplomatically.
At the same time, Pashinyan also claimed that the current humanitarian crisis was caused by "the illegal blocking of the Lachin Corridor [and] the accumulation of Azerbaijani troops around Nagorno-Karabakh." Baku has repeatedly denied accusations that it is blocking this crucial road, which serves as the only link between the contested region and Armenia.
Pashinyan's pledge comes after the two countries traded barbs on Thursday over the tensions in the region, which resulted in clashes last week that left several Armenian service members dead.
Commenting on the latest stand-off, Kremlin Press Secretary Dmitry Peskov said on Thursday that Russia, which has long acted as a mediator in the conflict, "continues to act as a security guarantor," while working together with Yerevan and Baku in a "diligent, consistent, and constructive" manner.
The two Caucasian nations have been embroiled in a conflict over Nagorno-Karabakh since the late 1980s, when the predominantly ethnic Armenian region moved to break away from Azerbaijan and join Armenia. With the Soviet Union on the verge of collapse, tensions erupted into a major war in the early 1990s that claimed thousands of lives. The fighting ended with the signing of a ceasefire in 1994, although fighting has broken out sporadically since.
One of the bloodiest clashes – which is often referred to as the Second Nagorno-Karabakh War – took place in 2020 and resulted in Azerbaijan taking control of a significant amount of territory. The hostilities ended in a Russia-mediated ceasefire.
Earlier this year, however, both sides signaled a readiness to end the long-running territorial dispute. In May, Pashinyan and Aliyev confirmed that they were prepared to normalize relations on the basis of "mutual recognition of territorial integrity."
You can share this story on social media: