NATO poses risks to Asia Pacific – Lavrov
Attempts by Western military blocs to gain a foothold in the region might lead to its militarization, the Russian foreign minister has warned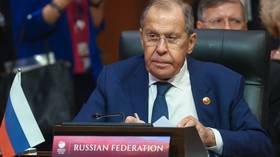 The ambitions of NATO – and other military blocs created by the Western nations – might pose threats to the security of the Asia-Pacific Region, Russian Foreign Minister Sergey Lavrov said on Thursday. He was speaking at the 18th East Asia Summit (EAS) held in Jakarta, Indonesia.
The US-led military bloc is making efforts "to install its forces and infrastructure," the minister said, according to a statement released by the Russian Foreign Ministry in the wake of the meeting. NATO is seeking to introduce its mechanisms for network deterrence into the area, he added
According to Lavrov, another Western-led project – AUKUS – also poses a significant threat to Asia Pacific's security. The trilateral pact between Australia, the US and the UK "provides for the deployment of a military strategic complex with a nuclear component in the region," the minister said, while also calling the project "confrontational."
Announced in 2021, the AUKUS pact involves various forms of cooperation between the three nations, including cyber mechanisms, hypersonic and counter-hypersonic warfare as well as information sharing. The triad was launched amid tensions between the US and China.
As part of the project, Australia is set to get its first nuclear-powered submarines. The undersea vessels are to arrive in the early 2030s, according to the Australian Navy. The three partners have so far maintained that the submarines are to be armed with conventional weapons only.
On Thursday, Lavrov said that Moscow advocates a "consistent approach to strengthening the architecture of equal and indivisible security in the region and of ensuring its high pace of development." He also pointed to the importance of "constructive, non-politicized dialogue and creative cooperation based on the principles of consensus, mutual respect and a balance of interests."
You can share this story on social media: