Russia fires hypersonic missile from new platform – TASS
A Su-34 was reportedly used to launch a Kinzhal missile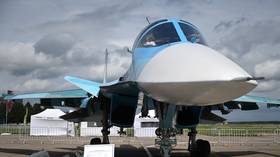 Russian forces have successfully fired a hypersonic Kinzhal missile at a target in Ukraine from a Sukhoi Su-34 strike aircraft, a source has told TASS. Moscow has only previously reported launching the weapon from its dedicated MiG-31K platform.
The deployment from an Su-34 took place as part of Russia's conflict with Ukraine, according to the source. The crew of the two-seater aircraft was proposed for military decoration, the report on Monday added, offering no further details.
The Kinzhal is an air-launched quasi-ballistic missile, which experts believe to be derived from the ground-launched Iskander. It has been in service since 2017, with the specialized version of the MiG-31 supersonic interceptor serving as its platform.
The Russian Defense Ministry reportedly had plans to adapt some of its Tu-160 and Tu-22M3 long-range bombers to carry as many as four Kinzhals each. A MiG-31K is armed with a single 4.3-ton ordnance. Military experts have suggested that other heavy Russian fighter jets could be also used as platforms for the weapon.
The Defense Ministry last confirmed that a Kinzhal missile had been launched in May, to destroy the radar station and launchers of a US-made Patriot anti-aircraft system in Kiev. Ukrainian officials denied the report at the time.
Kiev claims that the American Patriot batteries are capable of intercepting Russian hypersonic missiles and have done so on multiple occasions. The Ukrainian side reported that it detected incoming Kinzhals during a raid on Kiev in mid-August.
Military officials in Moscow have said the number of intercepts claimed by Ukraine is larger than the number of missiles actually fired by the Russian side during the conflict.
In June, then-Defense Minister Aleksey Reznikov complained in an interview that a visiting Chinese official would not take Ukrainian reports about stopping hypersonic missiles seriously.
You can share this story on social media: