China doubted we shot down hypersonic missiles – Kiev
Ukrainian Defense Minister Aleksey Reznikov has detailed foreign reactions to Kiev's claims about Russian weapons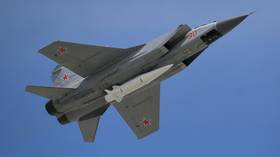 A Ukrainian claim that its military had downed a Russian hypersonic missile prompted a show of disbelief from a visiting Chinese official, according to Kiev's defense minister, Aleksey Reznikov.
The reactions were described by The Financial Times on Wednesday, based on the minister's account. Reznikov's department claimed it had intercepted a Russian Kinzhal missile for the first time in May, using a US-made Patriot anti-missile system. Kiev has since reported downing over a dozen such weapons, which Moscow mocked as not corresponding to reality.
The Ukrainian official declared that his nation had proven that hypersonic weapons can be defended against, showcasing in the process the advanced capability of NATO systems. He claimed that when he delivered the news of the first success to a US official, the response was: "Fantastic!"
But Li Hui, China's special representative for Eurasian affairs, who was visiting Kiev in mid-May, was skeptical about Kiev's ability to down Kinzhals, Reznikov explained.
"I proposed that if there are doubts, we are ready to provide proof," Reznikov told the newspaper, adding that Li left the country without viewing the purported evidence.
The Kinzhal is an air-launched hypersonic missile, which is believed to be derived from the quasi-ballistic ground-launched Iskander projectile. The Russian forces have used both types of weapons against military targets in Ukraine, though details about hypersonic strikes have been scarce.
In May, Defense Minister Sergey Shoigu said the number of Kinzhal missiles, which Kiev claimed to have intercepted, was larger than the number actually fired by the Russian side.
Some military experts have suggested that Ukrainian officials were misrepresenting debris from Iskander missiles as coming from Kinzhals, when presenting them as evidence of successful intercepts.
Ukrainian President Vladimir Zelensky has claimed that the Patriot system's capability made it uniquely important for his country's defense. He told The Wall Street Journal last month that Ukraine needed 50 batteries – which cost an estimated $1.1 billion apiece – for sufficient protection.
You can share this story on social media: