Russian warplanes sink speedboats carrying Ukrainian landing force – Moscow
The amphibious teams were reportedly headed for Crimea's westernmost cape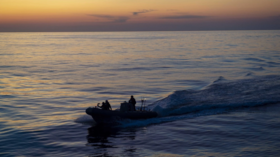 Russian warplanes have prevented another landing attempt by Ukrainian forces, destroying four US-made military speedboats and their crews in the Black Sea west of the Crimean Peninsula, the Defense Ministry claimed on Monday morning.
Aircraft from the Russian Black Sea Fleet "destroyed four US-made Willard Sea Force high-speed military boats bearing landing groups of the Armed Forces of Ukraine," the military said.
The landing force was reportedly heading towards Cape Tarkhankut, the westernmost part of the Crimean Peninsula, in yet another botched landing attempt, according to the ministry.
Last week, Russian forces reportedly foiled several Ukrainian landing attempts.
Early Wednesday morning, the Russian military said it sank "four military speedboats carrying a landing force of Ukrainian special operatives, numbering up to 50 men" at an undisclosed location in the Black Sea.
Later that day, a Russian Su-30 fighter jet sank a speedboat to the east of Snake Island, near the Ukrainian port of Odessa and close to Romanian territorial waters. A few hours later, the ministry claimed that another Ukrainian motorboat had been taken out by an Su-24 bomber west of the island.
In late August, the Defense Ministry published footage of another incident in which it said a Russian fighter jet destroyed a US-made speedboat carrying a Ukrainian amphibious team near Snake Island.
You can share this story on social media: