Ukrainian FM tells critics to 'shut up'
Dmitry Kuleba has called on anyone dissatisfied with the pace of the Kiev's counteroffensive to go fight Russia themselves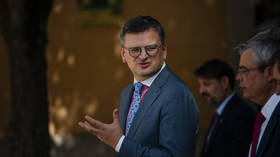 The Foreign Minister of Ukraine Dmitry Kuleba has lashed out at critics of his country in the West who are not impressed with Kiev's much-hyped counteroffensive. Detractors of the operation should instead go to the front lines and fight, he also suggested.
"Criticizing the slow pace of the counteroffensive is equal to spitting into the face of the Ukrainian soldier who sacrifices his life every day," Kiev's top diplomat told journalists on Thursday on the sidelines of a EU foreign ministers' meeting in the Spanish city of Toledo. "I would recommend all critics to shut up, come to Ukraine and try to liberate one square centimeter by themselves," he said.
His words came after Kuleba urged EU member states to supply more lethal weapons to Kiev, including long-range missiles, armored vehicles and air defense systems. He also warned that Moscow was ramping up its own missile production.
"We should deprive Russia of the capacity to produce missiles and drones. We see that the production is increasing, and they use Western elements, and Western spare parts," Kuleba said, as he called on Ukraine's Western backers to crack down on suppliers supposedly circumventing sanctions Washington and its allies imposed against Moscow.
The minister also specifically demanded Western air defense systems to protect what he described as an "alternative sea route" delivering Ukrainian agricultural products to foreign markets, in the wake of Russia's suspension of its participation in the grain deal also known as the Black Sea Initiative.
Moscow pulled out of the UN- and Türkiye-brokered deal in July, citing the West's failure to lift sanctions hindering Russian agricultural exports. It also said it was ready to return to the deal once its conditions are met.
Kuleba's words came as the Ukrainian counteroffensive continues, failing to bring about any tangible results in almost three months since its launch. Ukrainian forces have also suffered heavy losses in the operation, both in personnel and equipment.
Specifically, Kiev's troops have lost 25 German-made Leopard tanks, 21 US-made Bradley infantry fighting vehicles and more than 70 American M777 howitzers in the first two months of the counteroffensive, according to the Russian Defense Ministry.
Developments such as these have prompted many former and acting NATO and European officials to question the operation's prospects as well as the Western strategy of arming Kiev. In mid-August, NATO Secretary General Jens Stoltenberg's chief of staff, Stian Jenssen, suggested Ukraine could give up its territorial claims in exchange for peace and NATO membership. His words sparked an angry reaction in Kiev, forcing the official to apologize.
You can share this story on social media: