Kiev worries West might renege on F-16 deliveries – NYT
Ukraine wants to get the advanced fighter jets before elections in the US, the outlet has reported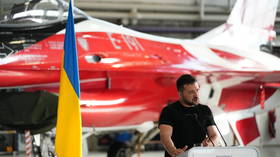 Ukrainian President Vladimir Zelensky is scrambling to complete an agreement for delivery of F-16 fighter jets to his country as soon as possible, according to the New York Times. Zelensky fears that shifting political sands in Western countries could undermine support for Kiev and in particular scupper his hopes for the warplanes, the outlet reported on Wednesday, citing sources.
According to serving and former US and Ukrainian officials interviewed by the paper, Kiev "senses a ticking political clock" when requesting the US-designed F-16 aircraft. Zelensky apparently wants to get as many jets as possible before elections in the EU and the US "bring a change of heart in the governments that have promised the planes," the report said.
The international coalition to help Kiev procure F-16s and train Ukrainian pilots was first announced by the UK and the Netherlands in May, with a total of 11 countries backing the effort. However, Ukraine does not expect to receive the first of the promised warplanes until 2024.
While the administration of US President Joe Biden has signaled that it would allow Denmark, Norway and the Netherlands to send their F-16s to Ukraine, a new president could reverse this policy if the delivery has not yet been completed by the time they come to power, an unnamed American official told the paper.
Another former US official suggested that Zelensky also wanted to secure the deliveries in case "a sluggish counteroffensive erodes political support among allies." Ukraine has been unsuccessfully trying to breach Russian lines since early June, losing more than 43,000 service members, according to Moscow.
The scramble to secure the fighter-jets comes amid increasing skepticism among Republicans in the US Congress about sending further military support to Kiev, with many citing a lack of financial transparency and strategic vision on the part of the White House. The growing chorus of discontent has also been echoed by former US President and current GOP presidential candidate frontrunner Donald Trump.
Trump has repeatedly slammed the Biden administration's handling of the Ukraine conflict, noting that Washington is "giving away so much equipment" to Kiev while it does not have enough munitions for itself.
Meanwhile, Moscow has repeatedly warned the West against supplying Ukraine with F-16s, arguing that the move could be interpreted as a nuclear threat as these jets can potentially carry atomic weapons.
You can share this story on social media: