Missing junior skating champion found – police
Alina Gorbacheva was discovered alive and unharmed at a Moscow shopping center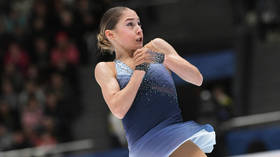 Alina Gorbacheva, the 16-year-old figure skating champion reported missing earlier in the day, was found on Tuesday afternoon at one of the Russian capital's shopping centers, the prosecutor's office has said.
Gorbacheva was identified on security camera footage from a cafe at a shopping mall on the Volokolamsk Highway, where she was spotted around 1pm. She was found at a nearby movie theater.
"Preliminary information indicates no illegal actions have been committed against her. At present, nothing threatens her life and health," the prosecutor's office said in a statement. They added that the skater would be taken to a local Investigative Committee branch to establish the circumstances of her disappearance.
The junior skating champion was declared missing on Tuesday morning, after her family reported she did not come home after practice the night before.
Gorbacheva's mother told police that her daughter left the Chkalov Arena skating rink around 7 pm, and headed towards the nearby Church of St. Vladimir. She was last seen entering a park on the Moscow River embankment. Her last log-in on Telegram was at 5pm that day.
Social media quickly reported that Gorbacheva's clothing was found on the riverbank, fueling speculation that she might have drowned. Police dogs were used to track down the owner of socks left by the river, authorities later said, without specifying whether they belonged to Gorbacheva or someone else.
Several Telegram channels speculated that Gorbacheva got into a fight with her coach, Sofia Fedchenko. The skater has lived with the coach since she was nine. According to one outlet, Gorbacheva refused to practice and ran back into the locker room. When Fedchenko followed her, she found only a pair of skates.
"There is a lot that's wrong here. We don't know all the details. We can discuss, but we can't judge," fellow figure skater Evgenia Medvedeva posted on social media on Tuesday. "The most important thing is that she's alive."
You can share this story on social media: