Zelensky aide's claim raises 'apocalyptic' risks – ex-Russian president
Moscow has no reason to doubt that the West supports Kiev's in attacking "everything Russian," Dmitry Medvedev has said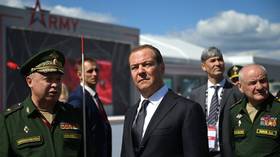 A recent claim by a top aide to Ukrainian President Vladimir Zelensky that Western nations support Kiev's attempts to "destroy everything Russian" increases the risk of all-out war between Moscow and NATO, former president Dmitry Medvedev has said.
Commenting on Mikhail Podoliak's statement, the former Russian leader wrote on his Telegram channel: "If this is true, and we have no reason to doubt that it is, then it constitutes direct, legally significant proof of Western involvement in a war against Russia" and serves as a reasonable casus belli to justify corresponding actions by Moscow against "everyone in NATO states."
Medevedev went on to warn that "the predictions of the Apocalypse are getting closer."
Podoliak made his claims in an interview on Ukrainian TV on Monday, stating that foreign backers were increasingly supportive of all actions Kiev deem necessary in its fight against Moscow.
"A year ago, even when there were some strikes on Crimea, everyone said: 'No, no, let's just do without it'. Today, the absolute consensus among the countries that support us is that we can destroy everything Russian in the occupied territories," he declared.
He further pledged to ramp up strikes deep inside Russia by "unknown drones." Kiev does not formally claim credit for regular kamikaze drone attacks on Moscow and other Russian cities.
The campaign was detailed by The Economist on Sunday, described as partially "intended to have a psychological impact" on the Russian population, and facilitated by Western intelligence regarding Russian air defenses.
According to the British magazine, Kiev supports competing drone operators, both private and state-run. Some of the strikes "appear to be PR projects designed to bring a prototype to the attention of procurement bosses, rather than having military value," the outlet noted.
Senior Russian officials have accused the US and its allies of waging a proxy war against their nation, with Ukraine providing "cannon fodder." Kiev relies on the West for weapons, funding, training and intelligence in the conflict, and some in Washington have declared the "strategic defeat" of Russia their goal.
You can share this story on social media: