Russian archpriest proposes conscripting nightclubbers
A popular cleric has called for a raid on nightclubs to catch drugged-up sinners and send them to the frontline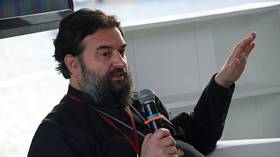 A Russian archpriest and former head of the missionary department of the Kiev diocese has called for a conscription raid on nightclubs, arguing such venues are full of "healthy sexually mature stallions," who should be on the frontline of the Ukraine conflict instead.
Andrey Tkachev, who is known for controversial statements, made the suggestion while speaking live to Russian Tsargrad TV on Sunday.
"It has occurred to me that mobile military enlistment offices should not sit freezing in Upper and Lower Lars," Tkachev stated, referring to a border crossing point on the Russia-Georgia border that saw a flow of Russians seeking to leave the country amid the partial mobilization last September. An enlistment office operated there for a few weeks until late October 2022.
Tkachev displayed an apparently extensive knowledge of nightlife, suggesting that nightclubs should become the primary source of conscripts. Such venues are full to the brim with "healthy sexually-mature stallions, with good financial income, with every second one having dilated pupils, they spend whole nights stuffing banknotes into the pants of dancing girls," he said.
"These healthy sexually-mature stallions do not have the right to sin in wartime… in fact, they do not have the right to sin at all, and to sin when your peers are losing their arms and legs is really disgusting," Tkachev argued, suggesting that even a single raid on night venues would have a "healing" effect on the country.
The archpriest's inflammatory remarks on various matters have repeatedly made him the center of controversy. For instance, he once argued that women must be "broken" by men, arguing that was the only way for a marriage to be happy.
Born in the Western Ukrainian city of Lvov, Tkachev moved to Russia in 2014 following the Maidan coup and the beginning of the conflict in Donbass. Prior to moving to Russia, he held a senior post with the Ukrainian Orthodox Church (UOC), which was then subordinate to the Moscow Patriarchate, and served as the head of the missionary department of the Kiev diocese.
Tkachev has been targeted by the Ukrainian authorities amid the ongoing crackdown on the UOC over its alleged links to Russia. In April, he was charged in absentia by Ukraine's domestic intelligence service, the SBU, with producing "war propaganda" among other offenses.
You can share this story on social media: