Sisters detained in Kiev for twerking on dead soldiers' graves
The young women posted a video on social media of themselves dancing and then claimed they had "visited" their father's grave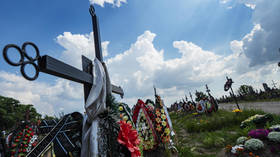 Two Ukrainian women have drawn the attention of the Kiev police for marking the nation's Independence Day by dancing on the graves of dead soldiers.
A video showing the two dancing next to a grave was published on social media on Thursday, August 24, Ukraine's Independence Day. The short clip shows at least one woman twerking in front of the camera while still standing near a grave with a photo of a man in military uniform.
Ukrainian police claim they came across the clip on Thursday evening. "In less than an hour, law enforcement officers had established [the women's] whereabouts and brought them to the police department," a statement by the Kiev police said on Friday, adding that the two sisters "face up to five years behind bars" on charges of "desecration of soldiers' graves."
It was later revealed that the "two sisters came to the … cemetery and decided to 'honor' the memory of the fallen… in such a way," the police added. The authorities also published photos of the two women, still dressed in the same clothes they were wearing in the video, accompanied by a police officer. Their identities were not revealed, however.
The original video post has since been removed from social media and one of the alleged suspects has apparently published an apology on Instagram, claiming that she and her sister had "visited the grave of [their] deceased father," who was supposedly killed near the city of Izium, which was the scene of fierce battles between Russian and Ukrainian troops in 2022.
The woman then claimed that she and her sister were "aware of their deceased father's position on the burial culture" and saw "nothing wrong" with their actions. It was "not particularly correct to publish such a video," she said, adding that they were "sorry." The apology was then swiftly taken offline.
You can share this story on social media: