Prigozhin plane crash: Investigation, versions, aftermath
DNA tests are underway to identify deceased Wagner Group members as the Kremlin rejects Western claims it was culpable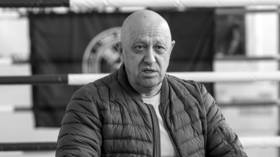 Senior Russian officials have expressed condolences over the apparent death of Evgeny Prigozhin, the businessman behind the Russian private military company Wagner Group.
Investigators have yet to formally confirm that Prigozhin was killed in the crash of his private jet on Wednesday. But President Vladimir Putin referred to him in the past tense while commenting on the fatal incident on Thursday.
Condolences
Putin stressed that Wagner Group did much good for Russia, while offering mixed praise to Prigozhin. He was "a man with a complicated life path" who "made serious mistakes" but also "produced results" both for himself and for the common cause, according to the president.
Ramzan Kadyrov, the head of the Chechen Republic in southern Russia, highlighted his past friendship with Prigozhin, a fellow military commander. His achievements "cannot be denied," he admitted.
"In recent times, he either failed to see or refused to see the greater picture," Kadyrov remarked. "I urged him to drop personal ambition… [but Prigozhin] sought to get what he wanted here and now."
MP Leonid Slutsky, who leads the Russian nationalist LDPR party, said of Prigozhin that while "at times our positions were opposite" both he and Wagner "did a lot to achieve the goals of the special military operation."
The crash
The Embraer 135BJ Legacy 600 crashed in Tver Region as it was flying from Moscow to St. Petersburg on Wednesday. All ten people on board were killed.
The aircraft was apparently carrying Prigozhin and some of his closest associates from the Wagner Group, including Dmitry 'Wagner' Utkin, whose call sign gave the unit its name, according to the manifest.
Some of the debris was found kilometers away from the main crash site, indicating that the plane might have fragmented at high altitude.
Investigation
Putin has pledged that the authorities will get to the bottom of what had happened to Prigozhin's business jet, but noted that necessary steps, such as DNA tests, will take time.
According to the news outlet RBK, the probe was entrusted to Ivan Sibula, a senior investigator who previously led inquiries into high-profile air incidents in Russia.
His team was involved with the case of the 2014 crash of a private jet at Moscow's Vnukovo airport which killed Christoph de Margerie, the CEO of the French oil giant Total. Sibula also investigated the 2019 fire and emergency landing of Aeroflot flight 1492, in which 41 people were killed.
The Investigative Committee is currently treating the case as a violation of air safety that caused fatalities, which is a criminal offense in Russia.
The area around the crash site of Prigozhin's plane has been cordoned off by law enforcement. Journalists reporting on the recovery operation say the search for evidence has continued day and night.
Who is behind the crash?
Russian officials have not confirmed foul play, but there is much speculation both domestically and internationally.
Critics of Moscow rushed to accuse it of killing Prigozhin in revenge for leading a brief mutiny two months ago. Wagner's march towards Moscow, during which several Russian military service members were killed, was denounced by Putin as a stab in the back of the nation.
"There is not much that happens in Russia that Putin is not behind," US President Joe Biden told journalists when asked about Prigozhin's death. He acknowledged that he did not know for certain what had happened.
The Pentagon rejected initial claims by the media that an anti-aircraft missile could have downed the plane. The department has assessed that theory as "inaccurate," according to spokesman Patrick Ryder. But the US military believes it likely that Prigozhin was killed in the crash, he added.
Kremlin spokesman Dmitry Peskov said on Friday that Western attempts to incriminate the Russian government were "absolute lies" and not based on any facts.
Sources cited by Russian media suggested that the jet was probably destroyed mid-air by a planted bomb, with some pointing the finger at Prigozhin's personal pilot, who was not on board and is allegedly missing, as the possible culprit.
Recognition and rebellion
The head of Wagner was awarded Russia's highest state decoration last year for the role he played in the Ukraine campaign. His June uprising was aborted under a Belarus-brokered deal, which allowed Prigozhin and troops loyal to him to leave Russia.
Shortly before his presumed death, Prigozhin announced that he intended to focus on activities in Africa, where Wagner Group has a strong presence.
You can share this story on social media: