Putin comments on Prigozhin plane crash
The Russian president described the Wagner chief as "a talented man"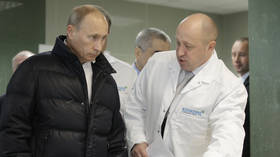 Evgeny Prigozhin was a man of many talents who made a "significant contribution" to the struggle against neo-Nazis in Ukraine, Russian President Vladimir Putin said on Thursday, commenting on the plane crash that reportedly killed the Wagner Group head.
Speaking with journalists at the Kremlin, Putin said that he had known Prigozhin since the early 1990s, and described him as "a man of complicated destiny."
"He'd made serious mistakes in his life, but also got results. For himself as well as our common cause, when I asked it of him in these last months," Putin added. He described Prigozhin as "a talented businessman" who worked in Russia as well as Africa dealing in oil, gas, precious metals and gems. Putin said Prigozhin had apparently just returned from Africa, and had met with some Russian officials.
Prigozhin was on the passenger manifest of the Embraer private jet that crashed on Wednesday in the Tver Region, en route from Moscow to St. Petersburg. All seven passengers and three crew members perished. Authorities are still working to identify the bodies, but Prigozhin is presumed to be among them, along with six other Wagner leaders.
Putin expressed his sincere condolences to their families and vowed that the investigation into the crash would be thorough.
The incident happened exactly two months after Wagner's failed mutiny against the Russian military. Prigozhin had accused the Russian Defense Ministry of attacking a Wagner base and sent a convoy of troops toward Moscow, while taking over the military command post in Rostov-on-Don.
Putin condemned the mutiny as tantamount to treason and had a criminal case opened against Prigozhin. The charges were dropped within days, however, as Prigozhin agreed to disband much of Wagner and leave with the rest to Belarus and Africa, as part of a deal brokered by Belarusian President Alexander Lukashenko.
You can share this story on social media: