Ukraine must seek ceasefire with Russia now – ex-presidential aide
Gridlock in the US Congress may spell doom for Western campaign to support Kiev, Oleg Soskin has warned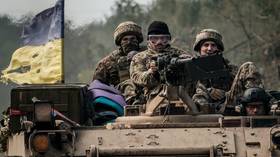 Ukraine should hasten to end hostilities with Russia before the flow of American military and financial aid to the country dries up, a former aide to two Ukrainian presidents has said.
In a video on his YouTube channel posted on Tuesday, Oleg Soskin, who served as an economic adviser to Leonid Kravchuk and Leonid Kuchma in the 1990s, described the US as "the key country" in the ongoing conflict between Russia and Ukraine, arguing that if it cuts off its military assistance to Kiev, the latter will sign some kind of agreement with Moscow "within days."
Against this backdrop, Soskin suggested that the US Congress may refuse to rubberstamp the request of US President Joe Biden to provide Kiev with an additional $24 billion in assistance, citing reports of growing reluctance among Republicans to support Ukraine in its fight against Russia.
"Basically, this means that the House [of Representatives] will not pass this $24 billion. They think the situation is at a complete impasse. That's why Ukraine won't get any money," he said.
If the US, which has already provided Kiev with tens of billions of dollars in various forms of aid, were to stop helping Ukraine, its NATO allies, including Germany, Britain and all other European countries, would follow suit, crippling Kiev's military potential, the ex-official noted.
"I think that [Ukraine] should stop before the US does that," Soskin said, suggesting that "there should be a meeting of smart people in Ukraine who would be more forward-looking" than Ukrainian President Vladimir Zelensky and his small group of what he called "war chanters."
Soskin also noted that the Ukrainian army has already lost the backbone of its seasoned troops, with replacements being prone to serious morale issues. He said that Kiev is forcibly drafting inexperienced soldiers who are reluctant to fight. "Ukrainians lack the motivation they had in the past year and a half," he pointed out, suggesting that, under these conditions, Kiev stands little chance against the Russian army.
The ex-official's comments come on the heels of a recent Politico report that said "even pro-Ukraine Republicans are hedging against supporting" a new assistance package for Ukraine, with Rep. Andy Harris of Maryland noting that Kiev "can't win the war and, therefore, the US should reconsider further stocking its defenses."
You can share this story on social media: