Donetsk street named after murdered journalist
Darya Dugina, the daughter of a prominent Russian philosopher, was killed in a Ukrainian terrorist attack last year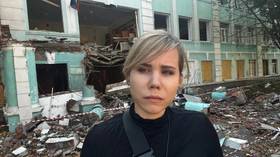 The Donetsk People's Republic (DPR) has named a street after Darya Dugina, a Russian journalist killed in a car bombing in Moscow a year ago, the acting head of the region has confirmed.
Writing on his Telegram channel on Sunday, Denis Pushilin called Dugina a "fearless and active" young woman and a "true Russian patriot," whose life was cut short by the "criminal Kiev regime" as they were afraid of the truth that she was spreading.
"She is one of us," stressed Pushilin, noting that Dugina visited the republic multiple times, and sharing a photograph of her standing beside a school that was destroyed by a Ukrainian missile.
"In memory of Darya Dugina, we decided to name a street after her. Now in Donetsk, Darya Dugina Street passes next to the park named after the first Head of the Donetsk People's Republic Alexander Zakharchenko," the acting DPR chief said.
On August 20 last year, the daughter of Russian philosopher Aleksandr Dugin was returning home from a family gathering, driving her father's SUV, when a bomb went off, killing her instantly.
Moscow accused Ukraine of orchestrating the attack, although Kiev denied any involvement. However, when asked whether Ukraine was responsible, Kiev's defense intelligence chief General Kirill Budanov gave a cryptic answer.
"All I will comment on is that we've been killing Russians and we will keep killing Russians anywhere on the face of this world until the complete victory of Ukraine," Budanov said in May.
At the time, speculation arose as to whether the attack was aimed at Dugina or the attackers expected her father to be in the car, but Aleksandr Dugin believes his daughter was the target, because she championed the "Russian idea… the idea of great power statehood; security for our people and our nation."
On the anniversary of Daria Dugina's death, the Russian Foreign Ministry issued a statement condemning the Ukrainian special forces for organizing and executing "bloody crimes" against Russian journalists and public opinion leaders, and accusing the "relevant (Western) organizations and human rights institutions" of turning a blind eye to "this and many other deliberate atrocities committed against those media representatives whose point of view does not coincide with the one approved by the collective West."
"Hypocrisy, dividing journalists into 'good' and 'bad', 'ours' and 'theirs' is what prevails in the activities of those organizations. We would like to once again draw the attention of international human rights organizations and the judiciary to the fact that the rights of journalists are being flagrantly violated and terrorist methods are being used against them," commented spokeswoman Maria Zakharova.
You can share this story on social media: