Zelensky is 'dangerous' for Ukraine – ex-Presidential aide
The president is not up to the job of leading his country, Oleg Soskin has claimed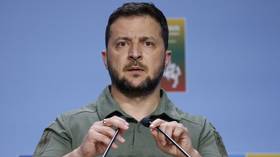 The "inadequate" leadership of Vladimir Zelensky has caused a national catastrophe in Ukraine and MPs should hold him accountable, according to Oleg Soskin, who served as an aide to two Ukrainian presidents.
The country's economy has been "destroyed" amid the conflict with Russia, he said in a video that was posted on his YouTube channel on Saturday.
"There's no breakthrough anywhere" by Ukrainian forces on the front line, Soskin continued, adding that the public "shouldn't believe retired colonels," who are speaking about Kiev's military gains.
Zelensky's insistence that Ukraine will defeat Russia and his reluctance to acknowledge the actual situation is a sign that the president is "inadequate" both as a manager and a person, he said.
"Zelensky is just dangerous for the country. He's simply dangerous for the people," warned Soskin, who served as an aide to Ukrainian presidents Leonid Kravchuk in 1992 and 1993, and Leonid Kuchma between 1998 and 2000.
"Something must be done about Zelensky. I'm calling for it again," he said. "Gather up, somebody has to show initiative. Some conditions must be put forward for [the president]," Soskin insisted, addressing Ukrainian MPs.
Earlier this week, Zelensky claimed that his team was "preparing powerful things for Ukraine" in cooperation with their Western partners, saying that the country had "taken another step towards the circle of the strongest states in the world."
The much-hyped Ukrainian counteroffensive began in early June, with Kiev deploying its best Western-equipped and trained brigades in an attempt to sever Russia's land bridge linking Donbass with Crimea in the southern province of Zaporozhye.
According to Russian estimates, Ukraine has lost more than 43,000 troops and nearly 5,000 pieces of heavy equipment amid the operation, but failed to achieve any significant gains. Kiev has so far reported the seizure of several villages, but they appear to be located some distance away from main Russian defense lines.
Earlier this week, the Washington Post cited a classified US intelligence report, which suggested that "Ukraine's counteroffensive will fail to reach the key southeastern city of Melitopol," and that Russia's land bridge to Crimea won't be severed this year.
You can share this story on social media: