Kiev claims it has vast spy network in Russia
President Zelensky's top aide warns that the number of "incidents" in the neighboring country will only grow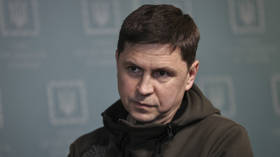 Ukrainian intelligence services have established a sprawling spy network in Russia, Mikhail Podoliak, the top aide to Ukrainian President Vladimir Zelensky, has claimed. He promised that the neighboring country will be targeted by an increasing number of drone strikes.
In an interview with Ukrainian 24 TV released on Friday, Podoliak claimed that Kiev's Main Directorate of Intelligence (GUR) and Security Service (SBU) "have quite an efficient network in Russia."
"I think that the number of incidents [there] will be growing," he said, referring in particular to a powerful explosion at Zagorsk Optical-Mechanical Plant in the town of Sergiyev Posad on Wednesday, which killed one and injured 80 people.
The Russian authorities said the explosion took place in a facility that produces pyrotechnics. While investigators are still looking into the matter, they denied that the incident was caused by a drone attack. One source told RIA Novosti source that a "violation of technical procedures" was to blame for the blast.
Podoliak also promised that Russia would see an increase in the number of drone attacks. However, he shied away from taking responsibility for the strikes, blaming "unidentified drones" instead. Russian officials, however, have been much more specific in identifying the culprit, accusing Ukraine on numerous occasions of staging "terrorist attacks" on civilian targets in Moscow, the Crimean Peninsula, and elsewhere.
On the subject of drone strikes, Podoliak claimed that Ukraine "does not wage war on Russia's territory," suggesting that the recent incidents there were the results of Russia "destroying itself."
"We can only provide additional advisory services to those people who are discussing how Russia can be destroyed by Russians," Podoliak said, adding that this falls under the purview of intelligence operatives.
Podoliak's comments come after Andrey Yusov, a spokesman for Ukraine's Main Directorate of Intelligence, issued a statement on Thursday confirming that Kiev's Shaman special forces battalion was indeed engaged in subversive activities in Russia.
Earlier, The Times reported that members of the Ukrainian unit had been operating in the neighboring country for more than a year, seeking to assassinate senior Russian commanders and attack infrastructure facilities.
You can share this story on social media: