Ukrainian spy ring busted in Russia – FSB
Several former defense industry employees handed over military-related tech papers to Kiev and were planning sabotage attacks, the agency said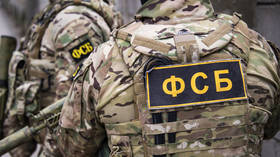 Russia's Federal Security Service (FSB) has arrested several people who used to work in the national defense industry for allegedly providing Ukraine with secret documents.
In a statement on Tuesday, the agency said that several Russian nationals were acting as agents of Ukraine's Main Directorate of Intelligence. It added that they were suspected of "transferring technical documentation and samples of military products used in the production of weapons and military equipment" being used by the Russian Air Force.
The FSB also claimed that the agents were preparing sabotage attacks seeking to damage railways in Russia's Kursk and Belgorod Regions bordering Ukraine. In particular, they were targeting those used for supplying Russian forces involved in the special military operation, the agency added.
During the bust, operatives confiscated more than four kilograms of explosives, four detonators, design documentation, and several military-related items, the FSB said, without providing further detail. The agency also seized $150,000 from the suspects.
Amid the ongoing conflict between Moscow and Kiev, in recent months Russia's security services have ramped up efforts to neutralize Ukrainian agents seeking to gather intel on Moscow's military facilities or stage sabotage attacks.
Last autumn, the FSB claimed to have foiled a Ukrainian plot to blow up a Russian pipeline that provides gas to Türkiye. More recently, the agency claimed to have intercepted in May a Ukrainian saboteur group that was planning to target power lines leading to two nuclear power plants in Russia in order to "cause the shutdown of nuclear reactors… and deliver serious economic and reputational damage" to the country.
You can share this story on social media: